BC & NATIONAL NEWS – breaking news ARCHIVE [Feb to June 2016]
---
Tuesday, June 28 ~ VICTORIA. New data released today by the BC Ministry of Transportation and Infrastructure (MOTI) shows that crash rates have dropped, or are unchanged, on 19 of 33 sections of highway where speed limits were increased in 2014, as announced today by Todd Stone, Minister of Transportation and Infrastructure.
The Coquihalla from Hope to Kamloops, for example, where the speed limit was increased from 110 kph to 120 kph continues to see the lowest crash rate in the last 10 years.
"Ministry engineers have taken a close look at the speed and crash data for each section of highway where we increased speed limits," Stone said. "They found that on 19 of 33 segments of highways, the crash rate either fell or remained unchanged."
The ministry's analysis, released today, compares crash data from Nov. 1, 2014 to Oct. 31, 2015 with crash data from the previous three years. The data shows:
On seven sections, the rate of speed decreased and crashes decreased.
On 12 sections, the rate of speed increased and crashes decreased.
On seven sections, the rate of speed increased and crashes increased.
On the remaining seven sections, the data shows that the crash rate increased, despite motorists traveling slower than they did before the speed limits were increased.
"Of particular interest, the data shows that we saw the crash rate increase on seven sections of highway where people were actually travelling slower," Stone said. "This suggests again that there are many different factors that can lead to crashes and speed is only one of them." Changing weather conditions, distracted driving, driving too fast for conditions, heavy traffic, falling asleep, alcohol, driver error and wild animals can all contribute to crashes. Distracted driving, road conditions and driving too fast for conditions contributed to 54% of serious crashes where speed limits changed. Distracted driving remains the leading cause of crashes on these sections of highway. In fact, the 2015 data shows distracted driving – also called driver inattentiveness – is still on the rise.
Between Nov. 1, 2014 and Oct. 31, 2015, 28% of all crashes in these areas were primarily caused by distracted driving. Distracted driving was the primary cause of 22% of crashes during the previous 10 years.
Driving faster than the posted speed limit was a contributing factor in only 2% of the crashes, says MOTI. "Once again, this data serves as a reminder for the public to put your phone away while you are driving," Stone said.
"We continue to see a rising number of people being killed or injured while using their phones and driving a vehicle. A text message, a phone call, a Facebook post is not worth your or someone else's life." The ministry retained University of British Columbia (UBC) researchers to assess the first year's crash data and look specifically at the sections of highways where the speed limits increased. The researchers concluded that there was not enough data in a single year to develop a statistically-significant trend for individual highway segments. However, they were able to determine, using a theoretical model, that the increase in crashes for all segments was up by an average of 11% in the first year.
The UBC modelling is consistent with the 9% increase the province saw on all other British Columbian highways where the speed limits were not raised. The one-year increase on BC's highways is also consistent with the rising crash and fatality rates in places where speed limits have remained unchanged, as more people take to the road with lower gas prices and as distracted driving rates continue to climb.
On the 14 sections where the crash rate has increased, the Province will invest in added safety features like improved road markings, better signage, new rumble strips, variable speed signs and wildlife safety measures. "When we introduced the speed changes in 2014, I committed that if any of the zones show an increase in crashes and we can't reduce them with engineering measures, the ministry would readjust the speeds," Stone said.  "That is why the ministry will be rolling back the speed limit changes on two of the 33 sections of highway: Highway 1 from Hope to Cache Creek will return to 90 km/h and Highway 5A from Princeton to Merritt will return to 80 km/h."
The government, the police and ICBC will continue to work together on driver education and encouraging safe driving habits. In addition, the BC government continues to monitor safety on the highways and roads, working with the Road Safety Executive Steering Committee. This committee includes police and RCMP, ICBC, the provincial health officer, the chief coroner, WorksafeBC and RoadSafetyBC.
---
Tuesday, June 28 ~ VICTORIA.  Today the BC Ministry of Forests, Lands and Natural Resource Operations has announced that In response to low rainfall and record high temperatures across southern and eastern Vancouver Island, the Province is putting residents on the highest drought alert and closing most streams and rivers to angling.
Government staff have upgraded the drought in the region to Level 4 – extremely dry – and are urging all water users – including residents, industry, farmers and municipalities – to reduce water consumption as much as possible. The area covered by Level 4 extends from north of Campbell River and the Discovery Islands down the east coast of Vancouver Island, and include Victoria, Sooke and Port Renfrew.
Areas north of Campbell River and along the west coast of Vancouver Island remain at a Level 3 drought rating, which means the conditions are very dry and water users should continue to limit their water use.
Meanwhile, the drought has lowered water levels and reduced flow in rivers and streams which is prompting the Province to close down the freshwater sports fishery across much of the southern island starting July 1, 2016.
Big Qualicum, Puntledge and Quinsam Rivers will remain open, along with Campbell River and all streams north of the City of Campbell River and Bamfield.
The fishing closures will remain in place until drought conditions improve significantly.
BC has four levels of drought, with level 4 being the driest. Water restrictions such as sprinkling bylaws are usually put in place by the local municipal government, based on local water supply and provincial drought guidelines.
---
Monday, June 27 ~ VICTORIA. Provincial and territorial ministers responsible for housing met in Victoria today to discuss their vision and priorities for affordable and social housing in Canada. The following was issued by the  BC Ministry of Natural Gas Development and Responsible for Housing Ministry of Families, Children and Social Development and Responsible for Canada Mortgage and Housing Corporation:

"The provinces and territories discussed how to work together with the federal government to achieve the best possible outcomes for Canadians and also the need for long-term, flexible, sustainable and predictable funding for provinces and territories to address their varied needs and circumstances. The meeting was chaired by Rich Coleman, British Columbia's Minister Responsible for Housing and chair of the Provincial/Territorial Housing Forum. The provincial and territorial housing ministers will meet tomorrow with the federal minister responsible for housing, Honourable Jean-Yves Duclos. The federal government's focus at tomorrow's meeting will be on its intention to develop a National Housing Strategy."
"The meeting is of great importance, as the federal government has signaled that they will be actively engaged — notably financially, — as a partner with the provinces and territories in addressing the challenges and finding solutions to providing safe and affordable housing for all Canadians."
"Over the past years, provinces and territories have made significant provincial and territorial housing investments to respond to their unique housing needs. Provincial and territorial ministers responsible for housing welcome the federal government's commitment to make new and additional investments in housing. Ministers expect productive
discussions with the federal government in order to develop a more comprehensive federal, provincial and territorial collaboration on current and new housing initiatives that include more flexibility, sustainability and predictability of federal funding."
"Achieving success requires renewed intergovernmental collaboration and respect for the roles and responsibilities of each province and territory. The provinces and territories are seeking a long-term, meaningful partnership with the federal government."
"The federal government and all provinces and territories want to ensure every Canadian has a safe, affordable place they can call home," said Coleman. "We want to thank the federal government for its willingness to commit significant funds for affordable housing across the country and we look forward to its continued investments. We are confident that by working together we can create long-term solutions that will benefit all Canadians."
---
Sunday, June 26 ~ VICTORIA. BC Premier Christy Clark utilized YouTube yesterday to announce her government's six key principles to affordable housing. "It's time for bold action," says Clark. Watch the video
"It's time for determined effort, one that includes all level of government," said Premier Clark. She says the BC Government will announce further details in the coming days and weeks, toward addressing housing affordability.  Some of the timing of this is in response to exceptionally high housing prices in BC that have — particularly in Vancouver and Victoria — been skewed upward by the eagerness of the real estate industry to sell to foreign buyers who are better able to afford single family homes than the average working BC resident.
A number of those foreign-bought homes sit empty while their owners live or travel elsewhere, while the vacancy rate for rentals is at nearly an all-time low in Vancouver and a single family home is generally out of reach of affordability by the average family.
The six principles will include supporting first-time homebuyers and protecting consumers from greedy sales practices.  Premier Clark says a determined effort must be made by all levels of government because high housing costs are impacting families … "to make sure that we preserve the dream of owning a home and keeping it in the reach of the middle class," said Clark in the online video. She also stressed the need for 'smart transportation decisions' and providing an available rental housing supply.
BC Minister of Families, Children and Social Development together with  BC Housing Minister Rich Coleman will announce further details in Vancouver today around 2:30 pm.
Vancouver Mayor Gregor Robertson said he wants the province to co-operate in collecting what he calls an 'empty homes tax'. The forward-looking mayor Vancouver hopes to create more rental housing instead of letting investment properties sit dormant while the cost of living continues to increase in the popular west coast city.
---
Thursday, June 23 ~ KELOWNA. A woman attending an outdoor adventure school slipped and fell during a hike on Huntley Col Mountain on June 17, and died.  She was Mia Norgaard Langhoff, aged 20, of Kolding, Denmark, says the BC Coroner's office.
The young woman was one of a party of about 20 from an outdoor adventure school in Denmark who were on a school field trip to Canada to mark the end of their course. The group was camped at Clearwater Lake and on June 17 undertook a day hike on Huntley Col Mountain, about 88 km north of Clearwater (which is in the North Thompson River valley, 124 km north of Kamloops), says the BC Coroner's office. In the afternoon the group was ascending a steep, grassy slope which was covered with fresh snow.
Langhoff slipped on the snow, lost her balance, and slid over a steep embankment a total distance of more than 30 metres. One of the instructors hiked and canoed out to summon help, a trip of about seven hours. A military search-and-rescue helicopter was dispatched from CFB Comox, but by the time it arrived, Mia Langhoff was deceased at the scene.
The BC Coroners Service and RCMP continue to investigate this death. The family of Ms Langhoff has been notified of her death.
---
Tuesday, June 21 ~ SOOKE. Josh Nickolas LaFleur (age 25) and Damien James Medwedrich (age 21) have been charged with two counts of attempted murder, said Sooke RCMP Detachment Commander Jeff McArthur this afternoon. 
These charges are regarding a drive-by shooting which occurred on Ella Road in Sooke on Tuesday evening, June 14, 2016 (see various news entries on the Sooke news page, June 14 to 21).  The two accused are scheduled to appear again in Provincial Court in Colwood on June 23, 2016
Dustin David BROWN, who was arrested earlier last week, is also charged with two counts of attempted murder in relation to this matter, says McArthur. Brown is scheduled to next appear in Colwood Provincial Court on July 5, 2016.
---
Tuesday, June 21 ~ VICTORIA. British Columbians have a tight window of about one week (deadline June 30, 2016) to share their thoughts with the BC Government on proposed requirements for spill planning and preparedness. Comments may be submitted at http://engage.gov.bc.ca/spillresponse . This public input opportunity was announced alongside a spill response exercise today in East Sooke.
Environmental emergency response officers (EEROs) from the Ministry of Environment took part in a spill response exercise today at the Royal Canadian Marine Search and Rescue Training Centre in East Sooke as part of a week-long annual training session.
The exercise included two scenarios simulating fuel spills and provided an opportunity for EEROs to practice water boom deployment techniques both on the water and on the shoreline.
In today's exercise, training was led by Western Canada Marine Response Corporation – the Transport Canada certified response organization for Canada's West Coast. If a real spill were to occur in this area, EEROs would work collaboratively with local government, First Nations and other provincial and federal agencies.
The recent amendments to the Environmental Management Act will allow the ministry to put regulations in place with requirements for responder training and participation in drills and exercises. First Nations and local governments will also have opportunities to play a larger role in spill response preparedness through this legislation.
Regulations to support this legislation are currently being developed as engagement continues with the general public, stakeholders and First Nations.
---
Tuesday, June 21.  June 21 is National Aboriginal Day in Canada.
PRIME MINISTER's STATEMENT – Prime Minister Justin Trudeau: "Today, on National Aboriginal Day, let us take the time to celebrate and honour the unique heritage and outstanding achievements of the Indigenous peoples in Canada," says Prime Minister Justin Trudeau."National Aboriginal Day is first and foremost an occasion to celebrate the fundamental role First Nations, Métis, and Inuit have played – and continue to play – in shaping the identity of all Canadians. Coast to coast to coast, their remarkable art and cultures, significant contributions and history, are essential to our sense of nationhood," the PM said in a news release today. On social media: #IndigenousReads
BC PREMIER's STATEMENT ~ Premier Christy Clark: "Today British Columbia and Canada mark the 20th anniversary of National Aboriginal Day. It's a time to celebrate the heritage and contributions First Nations, Metis and Inuit peoples continue to play in our province. National Aboriginal Day is also an opportunity to create awareness about the social injustices that our country's Aboriginal people have endured, and the importance of reconciliation. By confronting our shared history, we can take the necessary steps towards a better future, shared prosperity and, ultimately, reconciliation. I hope British Columbians are able to celebrate and join in this year's National Aboriginal Day events. With more than 200 First Nations communities and more than 100 events taking place throughout the province, there are a lot of opportunities to participate."
---
Sunday, June 19 ~ VANCOUVER.  "Lottery players in BC should be checking their numbers today!" says the BC Lottery Corporation (BCLC). A single winning ticket worth $12.8 million for yesterday's Lotto 6/49 jackpot was purchased in Coquitlam. On the same draw, a winning ticket for the Extra worth $500,000 was purchased in Vancouver.
This marks the second big win out of Coquitlam this month, says BCLC. Dennis and Janet Howlett of Coquitlam won a $1 Million Maxmillions prize on the June 10, 2016 Lotto Max draw.
Winners have one year from the draw date printed on the ticket to claim their prize and will join a growing list of British Columbians who have struck it rich with Lotto 6/49. The specific retail location where a winning lottery ticket was purchased and the winner's name will be announced after they come forward to claim their prize.
There is in fact a June 17 Lotto Max winner with a ticket that was purchased in Sooke for matching 6/7 numbers plus the bonus, as confirmed today by BCLC. The winning ticket is worth $337,266.90.
Prize breakdown: http://lotto.bclc.com/winning-numbers/lotto-max-and-extra.html
---
Saturday, June 18 ~ BC Ferries is "pleased with this year's net earnings", saying they reflect an improving economic outlook for BC in general as well as "the success of our cost containment practices over the past few years". They also cite in a news release on June 17, that there has been a "recent increase in traffic".
The net earnings of BC Ferries were up 30%, from $49.1 million for fiscal 2015 to $69.96 million (fiscal 2016). Actual revenues increased from $841.1 million in fiscal 2015 to $869.8 million in fiscal 2016, primarily due to an increase in traffic volume, driven by a lower Canadian dollar and the general improvement in BC's economic activity. Operating expenses increased from $722.5 million in fiscal 2015 to $744.2 million in fiscal 2016. The $21.7 million increase is primarily due to increases in maintenance, labour, cost of goods sold and amortization costs, offset by lower fuel costs.
Capital expenditures in the three and twelve months ended March 31, 2016 totalled $70.3 million and $181.2 million, respectively. For fiscal 2016, $114.2 million of these investments were for vessel upgrades and modifications, with the remainder for terminal marine structures; terminal and building upgrades and equipment; and information technology.
In fiscal 2016, BC Ferries experienced a 4.9 per cent increase in vehicle traffic and a 4.5 per cent increase in passenger traffic compared to fiscal 2015. Traffic was favourably impacted by lower fuel prices, the lower Canadian dollar and promotional fare incentives offered by BC Ferries in fiscal 2016.
---
Thursday, June 16 ~ VICTORIA. BC Premier Christy Clark issued the following statement today regarding the recently signed federal-provincial bilateral funding agreement:
"Today, British Columbia has become the first province to sign an agreement under the federal government's Public Transit Infrastructure Fund, representing a significant commitment that the Province and our federal partners have made to invest in transit services in communities throughout the province. This achievement demonstrates the important relationship British Columbia has made with the federal government, as we move forward with improving access to transit, not only in the Lower Mainland, but also in BC Transit communities."
"The bilateral agreement provides Metro Vancouver and BC Transit with over $314 million in provincial dollars and $460 million in federal funding that will go toward transit-served communities in Vancouver and throughout the province. In Vancouver, we will invest this money into new SkyTrain vehicles for the Expo, Millennium and Canada lines, a new SeaBus, a West Coast Express locomotive, upgrades to SkyTrain stations and for design and planning for Rapid Transit South of the Fraser and the Millennium Line extension along Broadway."
"Outside of the Lower Mainland, we will build new maintenance yards and bus depots, invest in new, cleaner and more efficient buses and install new technologies that will make transit users and bus operators safer."
"Thanks to the great work done by Transportation and Infrastructure Minister Todd Stone, Community, Sport and Cultural Development Minister Peter Fassbender, and our federal and municipal partners, these dollars will have a direct impact on the everyday lives of transit users, helping to get them where they need to go in their communities. It will give people more opportunities to choose to get out of their vehicle and use a greener, more environmentally friendly mode of travel."
"This is also an important step as we work toward tackling affordability challenges in Metro Vancouver by building smarter, more accessible, more connected communities and encouraging more density along major transit routes."
---
Tuesday, June 14 ~ VICTORIA (followup to story below). Two employees at Island Health no longer work for that regional health district, after they breached patient confidentiality by exploring patient files, it was told to media in a news conference this afternoon out of Victoria.
One of the employees had been with Island Health since 2012 and the other since 2013. Both had been in non-clinical support staff roles with the health district that employs over 18,000 people.
Island Health's Executive VP of Quality, Safety & Experience — Kathy MacNeil, said the Island Health investigation went back 16 months, and that 198 patient files were breached. Of those 198, there were family and friends of the former employees, as well as co-workers and some "public celebrities", said MacNeil.  MacNeil would not identify any of the affected persons.
The 198 people were either residents of Vancouver Island or in some cases were persons receiving care while visiting here. All are Canadians.
Not all of the 198 impacted persons (whose files were breached) have been contacted yet, said MacNeil. Phone calls were attempted first, and then letters sent. But some persons still are yet to hear about their breached files.
No legal action has been taken yet against Island Health, said MacNeil.
The breaches were discovered through a pro-active audit, part of a quality assurance system that Island Health undertakes.
---
Tuesday, June 14 ~ VICTORIA. Island Health has investigated incidents involving two employees who breached the privacy of 198 individuals receiving services through Island Health.  Island Health is in the process of notifying the individuals who are impacted by this breach. "We apologize to those individuals affected." it was stated in a news release from Island Health today.
Island Health says its investigation confirmed that the employees used their access privileges to view the records of patients with whom they had no care or service relationship.
The investigation reportedly began after a routine audit was run of employee access to the Electronic Health Record. Steps were taken immediately to ensure the employees' access to personal or confidential information was revoked and the BC Office of the Information and Privacy Commissioner (OIPC) was notified.
While the individuals affected are from a number of communities across Vancouver Island and beyond, the employees were based in Victoria. Privacy legislation prevents Island Health from discussing the specifics of personnel matters, but we can confirm that the employees no longer work for Island Health.
"It is unacceptable that any employee uses his or her access privileges to view patients' records. Such actions are contradictory to our organizational values and policies, and represent an exception to the high standard and ethical practice of staff and physicians working at Island Health. All Island Health employees and physicians are well-oriented to the importance of maintaining the confidentiality of sensitive information and the consequences of violating policy in this area," it was stated in the release.
Access to patient records for reasons other than authorized work-related purposes directly contravenes Island Health's Terms of Employment.
Island Health says that its confidentiality policy further sets out specific examples of behaviours that are a breach. This includes "unauthorized reading of a patient's chart" and "accessing information on yourself, children, family, friends or co-workers" when the employee does not need to see or know that information to do their job.
Island Health says it provides extensive, ongoing education and awareness for staff and physicians related to privacy. "Unauthorized access to patient files is a breach of our code of conduct, is a violation of privacy and will not be tolerated. We are assessing our practices now to mitigate any future violations."
---
Monday, June 13 ~ VICTORIA.   The BC Government is providing $600,000 under the Clean Energy Vehicle (CEV) Program to encourage and accelerate the use of electric vehicles in BC's public and private fleets and reduce greenhouse gases.
British Columbia has the largest public charging infrastructure network in Canada, as well as the highest per capita adoption of electric vehicles. This latest investment represents a continuation of BC's leadership in climate action.
John Martin, MLA for Chilliwack, and Laurie Throness, MLA for Chilliwack-Hope, made the announcement today at an electric vehicle car rally in Chilliwack that was held to launch two new fast charging stations in the Fraser Valley Regional District (FVRD) and promote the use of electric vehicles (EVs). Since 2013, the FVRD has installed five charging stations and added two EVs to its fleet.
The Fleet Champions Program (FCP) will provide financial incentives, training and education, business support and technical assistance to help fleet operators add EVs, including:
Incentives of 33% of the total cost up to $2,000 for the purchase and installation of Level 2 charging stations in fleet parking areas.
Education and training seminars, webinars and workshops for fleet managers and staff to provide information regarding EV benefits, guides and operational requirements.
Support for fleets to develop, as necessary, the business case for adding EVs, including infrastructure installation.
A dedicated website with information and tools for any fleets in BC interested in adopting EVs.
Electric vehicles are well suited to fleets. They offer high fuel economy and stable fuel costs, reduced vehicle maintenance and reduced greenhouse gas emissions, and fleet EVs can use centralized charging stations at fleet parking lots.
Under the Province's CEV Program, public and private fleets are also eligible for point-of-sale incentives of up to $5,000 for the purchase or lease of a new battery electric or plug-in hybrid electric vehicle. The FCP will be managed on behalf of the Province by the Fraser Basin Council.
The Province introduced the CEV Program in 2011 and has since committed more than $31 million to encourage British Columbians to choose clean, green vehicles and reduce greenhouse gas emissions.
A special decal to allow electric vehicles to travel in high occupancy vehicles (HOV) lanes in BC has already been issued to more than 1,000 electric vehicle owners in the province since March 2, 2016. Each electric vehicle on the road in BC displaces four tonnes of CO2 annually.
---
Saturday, June 11 ~ VICTORIA. New laws around the sale, promotion and use of e-cigarettes will come into effect on Sept. 1, 2016, the BC Ministry of Health announced yesterday.
The Tobacco and Vapour Products Control Act is designed to protect youth from the unknown effects of e-cigarette vapour and from becoming addicted to nicotine, which is why it will treat e-cigarette use exactly the same as tobacco, with the same bans and restrictions. There are no restrictions on adults buying e-cigarettes.
The Tobacco and Vapour Products Control Act was introduced as an amendment in spring 2015 to help stop the growing use of e-cigarettes by young people in British Columbia. Prevalence of e-cigarette use is highest among young people: one in five youth in Canada have tried an e-cigarette. The act as amended requires retailers to ensure e-cigarettes are sold only to adults aged 19 and above, and to ensure that no retail displays are targeted to
youth. As well, there should be no retail advertising for e-cigarettes shown where youth can see it. In addition, an exception on the indoor use restriction was made so that a small number of customers in adult-only stores could learn how to use vapour products or to test products that they wish to buy.
Under the new act, e-cigarettes cannot be sold in public buildings and their use is banned on public and private school grounds, in indoor public spaces and workplaces. These amendments also ban the use of tobacco and e-cigarettes on health authority properties; however, health authorities can establish designated smoking and vaping areas at their discretion. Health authorities continue to provide leadership in promoting the reduction of tobacco use.
"Great progress has been made in reducing tobacco prevalence in the province, and British Columbia continues to have the lowest smoking rate in Canada, at approximately 15.3%," says the BC Ministry of Health. Since the BC Smoking Cessation Program began in 2011, the Province has invested more than $51.5 million into the program and more than 223,000 have used the program to try to quit; that's 37% of British Columbians who smoke.
Quitting smoking greatly reduces serious health risks such as cancer, chronic obstructive pulmonary disease and asthma for British Columbians and their families. Each year, more than 6,000 British Columbians die from the effects of tobacco use.
For information on BC's Smoking Cessation Program, visit any pharmacy or visit: www.health.gov.bc.ca/pharmacare/stop-smoking/
---
Friday, June 10 ~ VICTORIA. On Saturday, June 18 the Honourable Judith Guichon, Lieutenant Governor of British Columbia, will host a public garden party to celebrate Her Majesty Queen Elizabeth II's 90th birthday.  Her Majesty's actual birthday is April 21, but it is traditional to host the public celebrations in the month of June.
The Lieutenant Governor will welcome members of the public on the east lawn to enjoy music and tea service. There will be musical entertainment by the Naden Band of the Royal Canadian Navy and the Cary Castle Pipers. A craft area will be set-up for children to make their own crowns.
This free event is open to everyone, on the east lawn of Government House, 1401 Rockland Ave, Victoria, from 2 to 4 pm. In the spirit of the occasion, guests are encouraged to wear their hats and gloves.
---
Friday, June 10 ~ VICTORIA. British Columbia's first full-scale earthquake exercise was completed today. The Exercise Coastal Response, a $1.2-million full-scale earthquake and tsunami response exercise over four days (June 7 to 10, 2016) was conducted to test the BC Earthquake Immediate Response Plan.
This exercise evaluated the in-scenario actions of public safety agencies and all levels of government, coordination among responders, health and medical agencies, and promoted interagency cooperation of both internal and external agencies that support emergency response.
The overarching goal of Exercise Coastal Response was to enhance provincial emergency response capabilities to a catastrophic earthquake. Six functional areas were exercised: Operations, Mass Care, Medical, Strategic Communications and Public Information, Telecommunications, and Logistics. This was accomplished through the coordinated actions of several emergency organizations to resolve problems related to a catastrophic earthquake.
Much of the activity of this exercise was conducted out of Port Alberni. A significant quake (9.0 Magnitude) is expected by seismologists at a one-third chance in the next 50 years, affecting the west coast of Vancouver Island in particular.
The exercise also has been an opportunity to test the select functions of the BC Earthquake Immediate Response Plan. These are the functions that support immediate life safety. This is a first step in the use of the BC Earthquake Immediate Response Plan to better prepare BC in the event of a catastrophic earthquake and tsunami.
Early reports indicate the testing of these functions of the BC Earthquake Immediate Response Plan was a success. Collaboration among the various agencies was effective, and the interoperability with emergency response partners well practiced. Most importantly, and fulfilling the intent of the exercise, lessons were learned in a collaborative training environment before a catastrophic emergency occurs.
Exercise evaluators have already noted areas of work that require refinement, such as a need for more robust operational communications, increased interagency co-ordination and integrated partnerships in all phases of emergency management, as well as increased joint training and exercises with all partner agencies to work toward continuous improvement.
The architects of the scenario and the lead evaluator will review the full complement of the exercise, including how agencies approached the scenario and the tasks that would be demanded of them in a real earthquake, to provide invaluable perspective and learning opportunities for the continued development of the Province's emergency preparedness and emergency management functions, as well as refinements to the BC Earthquake Immediate Response Plan.
This exercise scenario's regional impacts involved presumptions of:
Strong shaking in areas of Greater Vancouver, Greater Victoria and South Vancouver Island.
Some destruction in the major urban centres of the lower mainland and southern Vancouver Island, but not to catastrophic levels (5% damage).
Highway 4 completely blocked out to the coast.
Limited ship deployment to southern Vancouver Island ports.
Extensive communication and power failures across southwest BC.
A tsunami that impacted the west coast of Vancouver Island.
For the first eight to 10 hours of the exercise, information was presented to participants of all affected communities in southern BC. The greatest impact in this exercise was targeted at a scenario for Port Alberni and the West Coast Communities:
Extensive blockage of roads, bridges and airports.
Extensive local damage and facility destruction.
Significant utility breakages.
Multiple power outages affecting hospitals and care facilities.
Widespread, community and residential devastation.
A significant number of casualties and displaced persons, beyond the
ability of local and regional facilities to manage.
Road, port and infrastructure in the Port Alberni area were severely impacted – including a worst-case tsunami-caused inundation of the Port Alberni area.
Tsunami effects in other coastal communities such as Bamfield, Ucluelet and Tofino.
The scenario's earthquake and tsunami created a true catastrophic disaster event in the Port Alberni area that required an immediate response of federal and provincial assets.
This exercise scenario's national impacts involved:
Catastrophic damage along the west coast of British Columbia and neighbouring Washington State, such that would prevent significant assistance coming from any of B.C.'s partners in the United States.
Climatic conditions in Western Canada that did not impede delivery of Canadian relief support from east of the Rockies.
Damage in the Lower Mainland that would not impede delivery of Canadian relief support from east of the Rockies.
Exercise Coastal Response is the culmination of the work of over 60 organizations and over 800 participants including 260 volunteers. Activities took place in 20 unique locations in six communities (Port Alberni, Bamfield, Ucluelet, Tofino, Victoria, Surrey).
The BC government has a number of memoranda of understanding (MOUs) and partnerships in place to support response and recovery efforts during disasters with other provinces, U.S. states and the Government of Canada – including a West Coast Tsunami Warning document. The Province thanks the federal government for its assistance in the delivery of Exercise Coastal Response.
From June 7-10, 2016 Exercise Coastal Response (British Columbia's first full-scale earthquake and tsunami response) exercise brought together stakeholders from all levels of government, as well as Emergency Management BC staff, First Nations, Crown Corporations, critical infrastructure owners and non-government organizations involved in provincial-level response to model how they would collaboratively work to respond to the impacts of a catastrophic event along coastal BC. It tested the procedures set out in the BC Earthquake Immediate Response Plan and promoted interagency co-operation among internal and external agencies that support emergency response.
During the same time frame, neighbouring states and the U.S. Federal Emergency Management Agency (FEMA) Region 10 were conducting an exercise called Cascadia Rising 2016. As well, Canadian federal departments involved in earthquake response were conducting Exercise Pacific Quake and Exercise Staunch Maple.
"The Province is very pleased with the work of Emergency Management BC in planning and delivering Exercise Coastal Response," says Minister of State for Emergency Preparedness Naomi Yamamoto. "It has allowed us to put theory into practice, to work alongside our partners and identify the opportunities to better our emergency response mechanisms.
The sobering outcomes of a large-scale disaster illustrate why we, as a government, are investing so much into Exercise Coastal Response and into emergency preparedness as a whole to help protect the communities of BC and each and every British Columbian."
"Emergency preparedness is the responsibility of all Canadians, but it is critical that our federal and provincial governments continually work to better predict, prepare for, and respond to emergencies and natural disasters," says Federal Minister of Public Safety and Emergency Preparedness Ralph Goodale. "That is why we are committed to working together with all provinces to refine systems of information sharing, co-operation and consultation so that we may identify new opportunities to protect Canadians from coast to coast."
Links & Info:
Exercise Coastal Response
Exercise Coastal Response is based on a magnitude 9.0 earthquake occurring off the shore of southwestern B.C. as a result of a rupture of the Cascadia Subduction Zone. The earthquake scenario will generate a tsunami impacting the west coast of Vancouver Island minutes after the initial shock.
The exercise brings together some key stakeholder groups such as different levels of government, various jurisdictions in Canada and the United States, as well as a number of provincial ministries, First Nations, Crown corporations and first responders.
The exercise is a mix of real-time activities and simulated situations involving functions such as emergency operations, logistics, medical care, mass care, public information and operational communications.
Exercise Pacific Quake – Exercise Pacific Quake is a Canadian federal government earthquake exercise. Federal exercise play will include the local federal coordination departments, which have a presence in the Lower Mainland and Vancouver Island, such as Canadian Coast Guard, Transport Canada, Public Health Agency of Canada and will extend to the Government Operations Centre in Ottawa.
Exercise Staunch Maple – The Joint Task Force Pacific (JTFP), the lead Canadian military formation in British Columbia, has a range of activities planned, some of which are linked to Exercise Coastal Response activities located along the west coast of Vancouver Island.
Exercise Cascadia Rising – Led by Northwest United States FEMA Region 10, this exercise includes most municipalities and counties in the western half of Washington and Oregon, as well as parts of Idaho.
---
Thursday, June 9 ~ BURNABY. The BC Coroners Service has released updated statistics regarding the number of illicit drug-related deaths in 2016.
From January through May 2016, there were 308 accidental illicit drug overdose deaths in British Columbia. This is a 75% increase over the number of deaths occurring during the same period in 2015 (176).
Preliminary data suggests that the proportion of illicit drug overdose deaths in which fentanyl was detected (alone or in combination with other drugs) increased to approximately 56% in the first four months of 2016. In previous years, the proportion was: 5% (2012), 15% (2013), 25% (2014) and 31% (2015).
From January through May 2016, an average of 61.6 apparent illicit drug overdose deaths occurred each month. In 2015, the average number of illicit drug overdose deaths per month was 40.3.  In January 2016, there were 77 apparent illicit drug overdose deaths. This is the largest number of deaths in a single month for the examined period.
The 42 apparent illicit drug overdose deaths that occurred in May 2016 are fewer than occurred in each of the previous four months and are consistent with deaths in the same month in both 2014 and 2015 (41 and 42).
The full reports are online at: http://www2.gov.bc.ca/gov/content/safety/public-safety/death-investigation/statistical-reports
---
Tuesday, June 7 ~ VANCOUVER ISLAND. From June 7 to 10, Emergency Management BC will conduct British Columbia's first-ever, full-scale test of the province's Earthquake Immediate Response Plan.
The exercise will be based on a magnitude 9.0 earthquake and resulting tsunami due to a rupture of the Cascadia Subduction Zone. The Exercise Coastal Response activity is based on a magnitude 9.0 earthquake occurring off the shore of southwestern BC as a result of a rupture of the Cascadia Subduction Zone. The earthquake scenario will generate a tsunami impacting the west coast of Vancouver Island minutes after the initial shock.
The exercise brings together some key stakeholder groups such as different levels of government, various jurisdictions in Canada and the U.S., and a number of provincial ministries, First Nations, Crown corporations, non-
government organizations and first responders. The exercise is a mix of real-time activities and simulated situations involving functions such as emergency operations, logistics, medical care, mass care, public information and operational communications.
The four-day exercise will be based in Port Alberni (on Vancouver Island) and bring together key stakeholders from across all levels of government, as well as first responders, Crown corporations and First Nations. Real-time activities will include the deployment of medical care, group lodging, operational communications and search and rescue.
More than 60 different organizations and 600 people are participating in the earthquake drill.
The BC government is spending $1.2 million on this drill, to prepare for the real thing. Seismologists predict 1 in 3 odds of a major quake occurring on the West Coast in the next 50 years.
BC Minister responsible for emergency preparedness, Naomi Yamamoto, says it's not a matter of if an earthquake hits, but when — and that being prepared pays off in a disaster.
---
Monday, June 6 ~ VICTORIA. The BC Government's investment will be reaching up to $52 million in a home health monitoring partnership with TELUS to advance access for British Columbians with complex care needs using technology to help manage their health conditions, announced Health Minister Terry Lake today.
"The second phase of this project supports patients in receiving the care and monitoring they need from the comfort of their homes and we've seen success since it was introduced for select patient groups in 2013," said Lake, who made the announcement at the eHealth 2016 conference in Vancouver today. "Patients have told us their home health monitoring has resulted in improved self-management and better health, as well as a noticeable decrease to their emergency room visits."
Home health monitoring is an example of the use of telehealth technology to help proactively monitor at-risk patients, provide support for family caregivers and improve co-ordination of services between health professionals working in the community. Patients are provided with an easy-to-use mobile tablet, which enables them to stay at home connected closely to a care provider from their own home. The pilot phase, offered to heart failure patients in select areas in BC, was assessed very favourably, with 97% of patients recommending the service to other patients.
Phase 2 will include offering home health monitoring to patients with Chronic Obstructive Pulmonary Disease in Island Health. Vancouver Coastal Health will also expand TEC4Home, a home health monitoring solution designed specifically for patients' transition from hospital to home, bridging the gap between hospital and community care.
"Our partnership with the BC Ministry of Health is a ground-breaking initiative that is helping thousands of patients in our home province to better manage their chronic conditions from the comfort of their own home. These individuals are getting the care they need without having to travel to see their care providers. They are also able, in conjunction with their care team, to identify health issues before they become life-threatening events," said Josh Blair, executive vice-president of TELUS Health and chief corporate officer of TELUS. "This solution, supported by committed healthcare providers throughout the province, is a great example of how TELUS Health is fulfilling our mission to leverage technology to help deliver better health outcomes while simultaneously lowering costs for our healthcare system."
Projects like home health monitoring allow the Ministry of Health, health authorities, health care providers, and other stakeholders to work together to enhance primary and community care in the province. This work is about shifting emphasis into community-based care rather than hospital-based care. It focuses on supporting the health needs of particularly vulnerable people – such as the frail elderly and those with mental health issues – to more proactively manage their conditions and reduce hospital stays and visits.
The Province says it recognizes that advances in technology can lead to much more personalized and effective health care. Through the #BCTECH Strategy and support for organizations like TELUS, Genome BC, the Michael Smith Foundation for Health Research, the BC Cancer Foundation and BC Cancer Agency, the province says it continues to attract and retain talented researchers to work in BC to help improve care for patients and save lives.
---
Monday, June 6 ~ VICTORIA. BC Health Minister Terry Lake and Attorney General Suzanne Anton released the following statement today on medical assistance in dying:
"As of June 6, 2016, assisted dying is no longer illegal in Canada and the requirement for court approval has been removed. As laid out in the Supreme Court of Canada's February 2015 ruling, doctors will no longer be prohibited from providing medical assistance in dying to competent, consenting adults who have a grievous and irremediable medical condition that causes enduring, intolerable suffering."
"The federal government has introduced Bill C-14, which is before Parliament, to regulate the practice of medical assistance in dying across Canada. We are hopeful this legislation will be passed quickly so BC and other provinces and territories can move forward with a clear and consistent approach to delivering this new service for patients."
"In the meantime, we will be guided by the criteria in the Supreme Court's ruling. Our ministries are working together, alongside the province's professional regulatory colleges and other partners, to ensure safeguards are in place to protect vulnerable patients. This work aims to make medical assistance in dying in BC appropriate, available, and well-monitored even before federal legislation is in place."
"As always, doctors in BC must abide by the standards set out by the College of Physicians and Surgeons of BC. In an effort to ensure strong safeguards to protect vulnerable patients, the college has strengthened direction to doctors by elevating advice on how best to care for patients seeking medical assistance in dying from guidelines to standards. This provides clearer direction to doctors on determining eligibility and following the most appropriate and safe procedures."
"To further strengthen safeguards, using the tools available to government, we have amended the regulations under BC's Health Professions Act to give the college's recently released standards the weight of law as of June 6, 2016. We have also directed each health authority to appoint a coordinator for medical assistance in dying." One of the regulations put in place by BC is that if the illness is of a psychiatric nature, that an in-person psychiatric assessment must be included in the pre-decision process. Psychiatric illness is not specified in the proposed federal legislation that is now with the Senate.
"The Supreme Court's decision only clearly refers to the role of physicians in providing medical assistance in dying. The College of Registered Nurses and the College of Pharmacists are working to support registrants in getting legal clarity on medical assistance in dying to further support patient access."
"As this new service evolves, we will continue to strive towards providing those seeking medical assistance in dying with the same appropriate, accessible, patient-focused care British Columbians have come to expect from all health care services in this province."
---
Thursday, June 2. Every year human-wildlife conflicts occur in BC. To reduce these potentially dangerous situations, the BC Government has once again awarded WildSafeBC $275,000 to provide education and increase awareness in communities.
This provincial funding will allow WildSafeBC to support more than 100 communities throughout British Columbia in their efforts to reduce human-wildlife conflicts. This year, 28 coordinators will provide presentations to community groups, schools and residents offering educational tips to reduce these conflicts.
In 2015-16, the BC Conservation Officer Service received 28,507 calls regarding human-wildlife conflicts. Of those calls, 18,936 involved human-bear conflicts.
The most effective and natural way to reduce human-wildlife interaction is to properly manage food attractants such as garbage, birdseed, compost, pet food and fruit so they are not accessible to wildlife.
The British Columbia Conservation Foundation has administered WildSafeBC (formerly Bear Aware) since 1998.
---
Thursday, June 2. Starting June 1, 2016 a first-time distracted driving ticket in BC now carries a fine of $543 (i.e. $368 fine and four demerit points of $175). If more than three points are collected on a driving record in 12 months, ICBC charges a Driver Penalty Point (DPP) premium. A second distracted driving ticket within 12 months will require payment of $368, totaling $888 dollars. A third offence would cost a driver more than $3,000.
"Residents of Sooke and area need to be aware of the consequences of Distracted Driving," says Sooke RCMP Commander Jeff McArthur. "Sooke RCMP, the Integrated Road Safety Unit and Vancouver Island Traffic Units will be looking for distracted driving offences, a daily cause of death, injuries and accidents in BC," McArthur said. Sooke RCMP says over 50 charges and warnings issued for Distracted Driving in the District of Sooke since January 2015.
• Starting June 1, 2016 a driver found using a hand-held electronic device while driving in BC may face $543 in financial penalties for a first offence. That increases to $888 for a second offence, and penalties keep increasing each offence.
• Distracted driving contributed to the deaths of 66 people on BC roads in 2014, and seriously injured 630 more people. (BC Govt media release May 31, 2016)
• There are no messages or conversations that are so important that you need to endanger yourself or others.
• Roadways are very dynamic environments with situations and circumstances that can change quickly. By taking your eyes off of the road for even a moment you increase the chance of a collision or accident.
• Distracted driving and inattention is a top contributing factor to motor vehicle crashes, along with drug- or alcohol-affected driving, and speeding.
• Over the past three years, approximately 50,000 distracted driving tickets have been issued annually in BC. (Prov. of BC media release May 9, 2016)
• If drivers need to make a phone call on a cellular phone or check email, they are advised to use a hands-free device, or pull their vehicle over.
• The RCMP conducts enforcement blitzes for distracted driving year round. That's because distracted driving is one of the top dangerous driving behaviours in BC.
• During enforcement checks police look for any driver behaviour that takes their attention from the road. That includes: texting while driving, talking on a hand-held cell phone while driving, putting on makeup while driving, and reading a newspaper or book while driving.
• As per an exemption in the Motor Vehicle Act, police officers and emergency responders carrying out their powers, duties or functions are permitted to use electronic devices while driving.
---
Wednesday, June 1 ~ VICTORIA –With municipal and rural property tax deadlines just around the corner, home owners can look into several provincial programs that may help with some of the financial pressures of home ownership.
Municipalities set the deadline for payment of municipal property taxes.
Rural property taxes are due July 4, 2016. After July 4, a 5% penalty is applied to unpaid rural property taxes, including any unclaimed home owner grant. www.gov.bc.ca/homeownergrant
Home owner grant: Home owners can apply for the home owner grant when paying property tax. "This grant helps keep residential property taxes affordable for British Columbians by returning almost $800 million to families every year," says the BC Government. British Columbians who own homes valued up to $1.2 million may be eligible to receive a full home owner grant this year. For properties assessed above this threshold, the grant is reduced by $5 for every $1,000 of assessed value in excess of the threshold. There are two types of home owner grants:
The basic grant can reduce residential property taxes on an owner's principal residence by up to $570, or if the home is located in a northern and rural area, up to $770.
The additional grant can reduce residential property taxes on an owner's principal residence by up to up to $845 or, if the home is located in a northern and rural area, up to $1,045. The additional grant is available to home owners who are 65 years or older, who qualify under the persons with disabilities category, or who are the surviving spouse of a veteran who received certain war-veteran allowances.
Low-income grant supplement: Low-income home owners who would have received the additional home owner
grant can apply for a low-income supplement, which replaces any reduction in the grant caused by having a property valued over the threshold. The low-income supplement is available to seniors, certain veterans or their surviving spouse and persons with disabilities.
Property tax deferment program: The property tax deferment program provides low-interest loans that allow qualifying home owners to defer their property taxes until they sell or transfer ownership of their home, or it becomes part of an estate. Taxes can be deferred for any year the home owner lives in the home and continues to qualify for the program. Accumulated deferred taxes and interest must be paid when the home is sold or transferred. There are two categories under the property tax deferment program as explained atwww.gov.bc.ca/propertytaxdeferment :
The regular program is for owners age 55+, surviving spouses of any age and people with disabilities. The interest rate under the regular program is currently 0.7%. The rate is set equal to prime lending rate, minus 2%.
The families with children program is for parents, step-parents or those who are financially supporting children, and was created to help families during the years when household costs are often highest. The interest rate under the families with children program is currently 2.7%. The rate is set equal to the prime lending rate.
In 2016, 91% of BC homes are below the home owner grant threshold and, if eligible, their owners would receive the full grant amount. The home owner grant is available to Canadian citizens or permanent residents of Canada who live in B.C. The Province reimburses municipalities for the full cost of the home owner grant to ensure municipal revenues are not affected. The northern and rural benefit was introduced as part of carbon-tax recycling to recognize the challenges residence in some parts of BC face in minimizing their carbon footprint. As of April 2016, almost 40,000 BC households have benefitted from property tax deferment programs.
For information about other programs that support housing affordability, visit:https://news.gov.bc.ca/factsheets/factsheet-supporting-housing-affordability-in-bc
---
Wednesday, June 1 ~ VICTORIA. The BC Ferries "Size up the Savings" 'extra foot' promotion starts today. Between June 1 and September 30, customers with private passenger vehicles longer than 20 feet will pay only $3.25 per additional foot (regularly $6.50) on select sailings on the Tsawwassen – Swartz Bay and the Tsawwassen – Duke Point routes.
The Size up the Savings promotion provides customers with RVs, campers, and other extra length vehicles an opportunity to save on nearly 1,000 sailings over a four-month period. The 50%-off promotion is applicable in both directions on specified days of travel for Tsawwassen to Swartz Bay (Metro Vancouver – Victoria); Swartz Bay to Tsawwassen (Victoria – Metro Vancouver); Tsawwassen to Duke Point (Metro Vancouver – Nanaimo); and Duke Point to Tsawwassen (Nanaimo – Metro Vancouver). For details and reservations, see www.bcferries.com .
"Promotions like Size up the Savings are designed to help BC Ferries test alternative pricing in preparation for the new Fare Flexibility and Digital Experience Initiative," says BC Ferries in a news release today.
---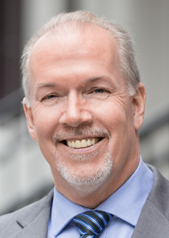 Tuesday, May 31 ~ VICTORIA. BC NDP leader John Horgan has today issued the following statement in response to the Christy Clark government's education announcement on Tuesday (that 'administrative savings' found in 2016-2017 budgets will be issued back to school districts):
"This is not about Christy Clark doing what's right for parents and kids, this is all about Christy Clark trying to make bad headlines go away until after the election.
"This is the least that Christy Clark could do. The least. This is not new funding and I think that parents and students will see through this cynical election ploy. There are no cheques going to local school boards. All that the BC Liberals are saying is that they won't be clawing back the $25 million that they were originally demanding from schools across BC.
"Barely a month ago, Christy Clark's education minister was dismissing the concerns of thousands of parents across BC as 'just a few vocal groups' and standing in the legislature defending his government's cuts to public education."
"I'm so disappointed that this is what it takes to get Christy Clark to listen – that parents and kids have to mount public campaigns and embarrass the BC Liberals to be heard. This funding flip-flop shows that Christy Clark's claim that she has no control over local decisions about school closures and education cutbacks is false. Christy Clark has neglected and underfunded public education in BC for far too long, and parents and kids deserve better. What could be more important than public education?"
Local focus: See details of cutbacks in Sooke School District 62 (which serves Langford, Colwood & Sooke) in the May 13, 2016 edition (page 2) and May 27, 2016 edition (pages 1 & 2, including EDITORIAL – 'How much strain will produce needed action') of West Shore Voice News.  For SD62, $450,041 will now not have to be 'cut' from staffing and administration.
---
Tuesday, May 31. The BC government says they are "redirecting $25 million in administrative savings from school districts back into frontline services for students," it was announced today by the BC Ministry of Education.  These are not cheques being issued, but rather a non-collection of funds that school boards were asked to find in their budgets for 2016-2017.
Education Minister Mike Bernier said: "Districts can use the funding any way they see fit – for hiring new teachers, for programs, or for maintaining schools despite falling enrolment in certain regions". He continued: "Our government is committed to ensuring that maximum education dollars go into services for students," Bernier said. "Districts worked hard to reduce their administrative costs and we are pleased to be able to direct that $25 million back to programs and initiatives that will directly benefit the kids of BC."
"Districts made real efforts to reduce spending on their administration costs – and those efforts have made it possible to help flow those resources into classrooms and services for students. The amount of money being left with districts is equal to the Year 2 of Administrative savings districts were asked to find," Bernier said.
"The BC School Trustees Association is pleased that the Ministry of Education and government have been responsive to our ongoing advocacy," said BC School Trustees Association president Teresa Rezansoff. "We thank them for engaging in open dialogue with us regarding the funding concerns of school districts. Local autonomy to allocate the money based on local priorities is important."
School districts have been informed that they will not have to pay their share of $25 million worth of provincial charges this year, and instead can redirect that money into frontline services for students.
"We are giving districts the ability to invest in their individual priorities," Bernier added. "This provides a great opportunity for each district to spend the money in a way that will best meet the needs of the students of that district."
Local focus: The Victoria school board (SD61) will receive back $$827,353; Sooke (SD62) will get $450,041; Saanich (SD63) will get $329,692; and the Gulf Islands (SD64) will receive $99,976.
See details of cutbacks in Sooke School District 62 (which serves Langford, Colwood & Sooke) in the May 13, 2016 edition (page 2) and May 27, 2016 edition (pages 1 & 2, including EDITORIAL – 'How much strain will produce needed action') of West Shore Voice News.  For SD62; $450,041 will now not have to be 'cut' from staffing and administration
---
Saturday, May 28 ~ VICTORIA.  Today is BC Jade Day! The BC Ministry of Energy and Mines is promoting the day to increase knowledge and promote public awareness of the history, craftsmanship, and economic benefits of the province's gemstone.
BC's first active jade deposits were found in Lillooet, BC, and from 1957 until the end of the 1960s more rough jade was produced in the Lillooet area than in the rest of the world combined. Massive new deposits of jade were later found in three areas of northern BC – Dease Lake, Mount Ogden and Cassiar – which now comprise an area considered to be the global capital for nephrite jade.
Historically prized by local First Nations and an important part of Chinese culture, BC jade is prized for its toughness and is recognized as some of the best in the world.
In fact, production of BC jade has doubled in recent years, and the average price for AAA quality jade has increased from $600 to $1,000 per kilogram since 2009. About 800 to 1,200 tonnes of BC-produced jade are sold annually on the global market. Once it is made into a finished product, BC jade can sell for up to 10 times its original price.
"Although a lesser-known resource in BC's economy, jade is a part of BC's industrial minerals industry and helps provide important economic activity as well as cultural connection to the many communities in our province that value the gemstone for its cultural significance," says a government news release.
BC is considered to have one of the largest deposits of nephrite jade in the world, with 50 known deposits in the province. Jade is stronger than steel and is known for its ability to be carved into intricate designs. One of the largest sculptures made of BC nephrite jade is the Jade Buddha for Universal Peace commissioned for the Great Stupa of Universal Compassion. On the industrial side, jade tiles have great market potential in new, upscale residential and commercial building applications.
---
Thursday, May 26 ~ VICTORIA. Big changes are being made in the BC education system. "Connecting students with the skills they need to succeed in our changing world is the priority for British Columbia's new curriculum," said Education Minister Mike Bernier today in a news release. "Changes are coming to BC's education system to boost that connection."
Designed by teachers, BC's new curriculum will teach students the basics of reading, writing and arithmetic in a way that connects them to collaboration, communication, and critical thinking skills they will need to succeed after high school. New curriculum will be fully implemented in the K-to-9 years this fall, and will be available in draft for teachers to use for grades 10 to 12 at the same time.
With redesigned curriculum being implemented, we need to ensure how we measure student success keeps pace. That's why changes are starting this coming school year to our assessment practices, reporting and graduation program. Key changes include:
Provincial exams: Starting 2016-2017, previous five exams being replaced with assessments of the core math and literacy skills that are the foundation for all subjects. During their graduation program years, students will write provincial exams of both math skills and literacy.
Classroom assessment: Student progress in subjects like science, social studies, and language arts will be assessed in the classroom.
Report cards: From late June to October, parents will be consulted on what they want to know about their child's progress and how they want to get that information.
Career Education: Starting in the 2017-18 school year, students will take this course to graduate. What they learn will show them the link between the classroom and their opportunities in life.
As well, post-secondary institutions in BC and outside the province have been consulted about the new curriculum – and the changes will improve the seamless path for students headed to university, college and trades training.
"As BC enters Year Two of the three-year transition to new curriculum, BC is building on some of the best student outcomes in the world to make them better," says the BC Ministry of Education in a news release May 26. "The new curriculum fits in with the key goals of BC's Skills for Jobs Blueprint to re-engineer education to ensure young people have the skills they need for in-demand careers."
Parents, grandparents and guardians can check out the entire new curriculum – by grade, by subject, as well as assessment and graduation online at:https://curriculum.gov.bc.ca . Parent engagement will begin in Fall 2016, by which the BC government will accept public feedback on what they want to see changed in formal and informal reports.
"We owe it to parents and to the next generation to make sure we are setting up a clear path for kids to follow their dreams and succeed," says Mike Bernier, BC Minister of Education. "Whether they want to design computer programs, build skyscrapers, or start a business, our new curriculum and our incredible teachers will help students build the foundation they need to make that happen."
"Today's announcement from the Ministry of Education is another positive step toward ensuring BC's education system is reframed to meet the needs of students over the next 40 years, not the last 40 years," says Teresa Rezansoff, president, BC School Trustees Association. "We are encouraged that parents, educators and school trustees will continue to have a major role in shaping the final product. Continued consultation is required to ensure there is confidence in what is recognized as one of the world's best K-12 education systems."
"The redesigned curriculum will support our learners today as we help them become ready for a future which will demand different skills and contributions," says Sherry Elwood, president, BC School Superintendents Association. "We will focus on providing our students with every opportunity to find their strengths, to be creative and to master their challenges. Working together with our partners, we can provide world class future ready education for all of the students in our province!"
---
Thursday, May 26 ~ VICTORIA. A chemist at the University of Victoria (UVic) has received some new funding to help tackle the Zika virus outbreak. Two promising UVic projects to help prevent spread of the mosquito-borne Zika virus have been given the funding boost.
Grand Challenges Canada has awarded a total of $50,000 to UVic chemist Alexandre Brolo for his research on two applications that could alleviate this emerging public health crisis. The virus has been reported in Africa, Asia, French Polynesia and the Americas, especially countries such as Brazil where neurological, auto-immune and birth complications have been observed.
Using nanotechnology, Brolo and his team are creating low-cost strips that detect the presence of arboviruses such as Zika and dengue in saliva. The screening device involves a plastic strip coated with nanoparticles that change colour when they come into contact with infected saliva. With simple-to-use technology, these screening strips would be used by on-the-ground health workers to detect infection trends.
"This funding will allow me to continue to optimize the stability and accuracy of these strips," says Brolo. The grant will also help cover a small-scale pilot project in collaboration with a virologist at São Paulo University in Brazil.
The Zika virus has caught prominent worldwide attention for one of its most obvious impacts — causing microencephaly in fetuses and newborns.  Further to that, it is being discovered that the virus can last up to six months in the sperm of men who have been exposed to the mosquito-borne virus, which can be passed on to women in any part of the world whose pregnancies may also result in babies with microencephaly.  Microencephaly in newborns presents as a small head with a dramatically underdeveloped brain.
The mosquito that carries the Zika virus is not thought to be present in Canada, according to Health Canada.
---
Wednesday, May 25 ~ VICTORIA.  BC Ferries is maximizing the number of sailings available during busy periods for the month of June on its three busiest routes. The add-on sailings are In response to significantly increasing traffic levels, says BC Ferries.
On the Horseshoe Bay – Langdale route, 46 additional sailings have been scheduled for June. These extra sailings are on Thursdays and Fridays, and during the last week of June. Also, starting on June 21, the sailing schedule on the Langdale route will be adjusted for the summer to allow BC Ferries to better meet the increased demand in traffic. Service between Tsawwassen and Swartz Bay has been further increased by adding 32 more sailings in June on Thursdays, Saturdays and Mondays. Eleven additional trips have also been added to the schedule on the Horseshoe Bay – Departure Bay route on Thursdays and Fridays during the month of June.
"Vehicle traffic is up by approximately 6.0% on our major routes so far this spring, and so we are adding even more extra sailings on our busiest routes to increase capacity and improve our on-time performance for our customers," said Corrine Storey, BC Ferries' Vice President of Customer Services. "Full summer schedules will go into effect at the end of June, where even more sailings will be added for the peak season."  www.bcferries.com
---
Monday, May 23. Today, Premier Christy Clark begins a trade mission focused on opening new doors in the Philippines and developing new export markets in technology and liquefied natural gas (LNG) with established trade partners in Japan and South Korea.
Premier Clark is leading a delegation of representatives from approximately 78 businesses and organizations on her seventh trade mission to Asia, travelling to South Korea May 23-25, the Philippines May 26-27, and Japan May 28-31.
"This trade mission is about developing new trade and investment opportunities with Japan and Korea, while looking at what the future holds in Southeast Asia as we develop a stronger trade presence in the Philippines," said Premier Clark. "BC is leading Canada right now because we have both a diverse economy and diverse export markets. This mission is an opportunity to build on that success."
---
Monday, May 23 ~ VICTORIA.  The first part of 2016 brings more good news for BC tourism, says the BC Ministry of Jobs, Tourism and Skills Training and Responsible for Labour. The latest international visitor numbers show that tourism visitation is up 16.8% during the first three months of 2016 with 121,306 more visitors to the province over the same period last year.
The number of international visitors in March is up 19.6% over March 2015, representing an additional 50,299 visitors to British Columbia. Visitors from the first three months are coming from a number of key markets, with increases as follows: France up 51.6%; Mexico 45.2%;  U.S. 20.1%; Japan 13.3%; South Korea 10.1%; China 7.8%; Germany 6.2%; Australia 4.7%; India 2.5%; United Kingdom 1.1%.
Provincial tourism growth is helped by a number of factors including the low Canadian dollar, Destination BC's new international marketing strategy, more direct flights to BC and outstanding conditions at the province's ski resorts. The new flights are thanks in part to a 2012 jet fuel tax eliminated by government to reduce costs for airlines and give travelers more choice.
The strong growth in visitors from Mexico is partly due to a new non-stop, daily Aeromexico flight between Mexico City and Vancouver that started in December 2015. Continued growth from Japan is helped by the new Air Canada seasonal  flight to Osaka's Kansai International Airport.
Each new daily international flight to BC creates between 150 and 200 new jobs at Vancouver International Airport (YVR – in photo). An additional 300 to 400 jobs are created indirectly in the province at businesses such as hotels, restaurants, travel agents and tour operators.
The tourism industry is helping fuel the provincial economy which is expected to lead the country in economic growth in 2016 and 2017. Tourism supports approximately 19,200 businesses and 127,500 employees in BC, and is a key sector in the BC Jobs Plan.
"Tourism growth for the first part of 2016 is very strong and encouraging as we get ready for a busy summer tourism season," says Shirley Bond, Minister of Jobs, Tourism and Skills Training and Minister Responsible for Labour. "International tourists are putting BC at the top of their travel lists and our amazing scenery and world-class tourism experiences are drawing people from around the world. We also are encouraging British Columbians to #ExploreBC this summer. Tourism has been a key part of our Jobs Plan and is a critical sector in our diverse and growing economy."
"Tourism in British Columbia is going from strength to strength," says Marsha Walden, CEO Destination British Columbia. "We are coming off one of the best ski seasons in years, hotel occupancy rates and room revenues are on the rise, provincial restaurant receipts are up, and tourism businesses are reporting stronger bookings as we head into summer. By all accounts, 2016 is off to a fantastic start. "
Tourism provides a job for roughly one out of every 15 people employed in BC. The province invests more than $90 million annually in the tourism sector across every region to grow and market the sector. In 2015, 4.9 million international visitors came to BC – a 7.9% increase compared to 2014.
---
Sunday, May 22 ~ OTTAWA.  The Government of Canada says its "ambitious plan to revitalize our economy through smart, necessary investments for long-term economic growth and a strong middle class is gaining recognition among the world's most advanced economies".
On May 21, Finance Minister Bill Morneau concluded his meeting with the G7 Finance Ministers in Sendai, Japan. In a news release it was stated: "He shared Canada's plan to create better jobs, promote a cleaner environment and build more liveable communities through investments in people and the economy. Canada's people-centered approach will flourish through cooperation with international partners and lead to stronger global growth, greater equality and shared prosperity."
"Canada's economic approach is based on the notion that, when you have an economy that works for the middle class, you have a country that works for everyone."
Morneau said in a release yesterday: "…the investments contained in Budget 2016 and the longer-term growth strategy we are developing are exactly what Canadian families—and the global economy—need now, and for the future."
Canada's relationship with the Asia-Pacific region, and the opportunities to further build on a two-way trade relationship now, are worth close to $170 billion per year, says the Finance Ministry. "Creating new markets for Canadian-made goods, providing more selection to consumers and demonstrating leadership on the international stage will better position Canada for the global economy of tomorrow, and provide more opportunities for Canadian families now and in the future."
Today at noon, Ottawa time, Prime Minister Justin Trudeau and Mrs. Grégoire Trudeau will depart for Tokyo, Japan where Trudeau will represent Canada at the G-7 Summit.
---
Saturday, May 21 ~ VANCOUVER ISLAND.  Access to the parking lot at Sombrio Beach has been temporarily restricted for safety measures over the May long weekend to discourage illegal activities, such as parties and vandalism, which have occurred in past years.
The 2.5 km gravel access road leading from Highway 14 to the parking lot at Sombrio Beach trailhead will be closed to vehicle access from Friday, May 20 at 7 a.m. to Monday, May 23 at 12 midnight.
BC Parks will be closing vehicle access to Sombrio Beach with the support of the Conservation Officer Service and the RCMP. Unauthorized activities within the park can impact the social, economic, cultural and ecological sustainability of both the park and the local communities.
All locations within Juan de Fuca Park, including the designated campsites and access trail at Sombrio Beach and the Juan de Fuca Marine Trail, remain open to the public. The three remaining trailheads to the Juan de Fuca at China Beach, Parkinson Creek and Botanical Beach are still accessible by vehicles.
BC Parks wants all visitors to peacefully and safely enjoy recreational activities at the park such as hiking, camping and day use at Sombrio Beach and in the Juan de Fuca Provincial Park.
---
Friday, May 20 – VICTORIA. With heavy traffic expected over the upcoming Victoria Day long weekend, BC Ferries has added over 70 extra sailings to its busiest routes. Extra service has been made available for Thursday, May 19 through Tuesday, May 24.
Additional sailings are scheduled for the Tsawwassen – Swartz Bay, Horseshoe Bay – Departure Bay, and the Horseshoe Bay – Langdale routes for the upcoming long weekend.
• 46 extra sailings scheduled on the Tsawwassen (Vancouver) – Swartz Bay (Victoria) route
• 15 extra sailings scheduled on the Horseshoe Bay – Departure Bay route
• 10 extra sailings scheduled on the Horseshoe Bay – Langdale route
"Thursday is the new Friday for travel on BC Ferries," said Janet Carson, BC Ferries' Vice President of Marketing and Travel Services. "Many families get a jump on the long weekend and travel Thursday afternoon. Friday afternoon through late morning on Saturday are also popular travel times on a long weekend with the majority of traffic moving from Metro Vancouver to Vancouver Island and from Horseshoe Bay to the Sunshine Coast."
Historically, the holiday Monday afternoon is the busiest day of the long weekend with traffic returning to Metro Vancouver. Several routes have seasonal schedule changes that come into effect on the Victoria Day long weekend and BC Ferries encourages customers to consider making a reservation during busy periods if travel is required on a specific sailing. For full schedules, current conditions, or to make a reservation, please visit www.bcferries.com .
---
Thursday, May 19 – VICTORIA. BC will invest $45 million in school facility upgrades this year. "We're calling it our 'fix it fund',: said BC Education Mike Bernier in an announcement at the BC Legislature today. There will be 80 projects in 124 schools throughout the province.
"We have a strong economy in BC, and have the opportunity of making investments like this," Bernier said. The work will include 21 roof replacements; the upgrading of heating and ventilation systems; windows, lighting and electrical system upgrades; and fire protection safety enhancements.
Districts applied to the Ministry of Education in spring 2016 and successful projects were chosen based on need, priority and supporting student learning. Another requirement was that projects had to cost more than $100,000.
Joining Minister Bernier for the announcement was Greater Victoria School Board (SD61) Superintendent Piet Langstraat. "Today's announcement is about investing in buildings," said Langstraat. "But it's much more than that. It's about investing in safety. And more than that … about investing in the lives of these young students. Not only for today, for for the years to come."
Also speaking today was SD62 Board Chair Bob Phillips, a long-time trustee in Sooke School District 62 (SD62). Phillips announced that the only high school out in the town area of Sooke — Edward Milne Community School (EMCS) — will be getting almost $465,000 for roof repair and envelope upgrade.
---
Tuesday, May 17. Today, Randall Garrison, NDP LGBTQ critic and MP for Esquimalt-Saanich-Sooke, welcomed the Liberal government's introduction of a bill to add protections based on gender identity and gender expression to the Canadian Human Rights Act and the Criminal Code. The text of government's legislation is identical to bills put forward in the past by the NDP.
"Today is a good day for the Trans community. Trans and gender non-binary people deserve equal rights and protections and have been waiting for far too long. This is an important step in ensuring equal rights for all Canadians," said Garrison in a release to media.
Today marks the seventh time in the past 10 years that this legislation has been introduced. New Democrats have a long history of bringing forward legislation to guarantee trans rights. Former NDP MP, Bill Siksay, introduced similar legislation in three previous parliaments starting in 2005 and MP Garrison in 2011 and again in 2015. The bills passed the House of Commons twice, in 2011 and 2013, only to be killed by delay and inaction in the Senate.
"I am hoping the government will now adopt an expedited process for the bill given recent events, including the May 2 arson attack on the only clinic in Canada that performs gender affirming surgery in Montreal," added Garrison.
---
Friday, May 13 ~ VICTORIA.  BC Hydro is buying lands in the Jordan River area, at a price tag of $3.13 million.
The Capital Regional District (CRD) Board accepted the offer from BC Hydro to acquire lands and rights on lands affected by a potential flood inundation area at Jordan River. CRD is retaining the oceanfront lands within the inundation zone and south of the West Coast Road, including the campground and beach used by surfers. [See map: BC Hydro inundation zone show with red hash marks at waterfront]
A covenant will be placed on these waterfront lands to restrict residential development, but camping will continue to be permitted. [See map: camping shown in dark green area at waterfront.]
BC Hydro also has contributed funds for an early warning alarm system and will help cover the costs of transferring the land. BC Hydro will also give local First Nations the opportunity to acquire these lands.
"The acquisition of these lands and rights helps to address public safety concerns in a region where the seismic risk is much greater than previously understood," said Chris O'Riley, Deputy CEO, BC Hydro.
"This is seen as a prudent sale that benefits the residents of the region. Retaining the oceanfront lands allows the CRD to continue to provide overnight camping and ensures easy access to the water for beach users and surfers," said CRD Board Chair Barbara Desjardins. "The funds from the land sale will go to the CRD Regional Parks Service."
The CRD initially agreed to purchase 180 hectares of land in Jordan River to create a regional park in 2010. The park boundary has not yet been finalized due to the planned disposition of surplus lands. However, this transaction is consistent with the vision for the Regional Park and ensures the primary public interests will be held for future generations to enjoy.
"This has been a long process but at the end of the day, in my view, BC Hydro has fairly compensated the CRD for these lands and rights, " said Mike Hicks, Juan de Fuca Regional Director and CRD Park's Chair. "A special thank you to Minister Bill Bennett, MLA John Horgan and BC Hydro President Jessica McDonald for their assistance."
---
Thursday, May 12 ~ OTTAWA. Prime Minister Justin Trudeau will meet with first responders in Fort McMurray on Friday morning, May 13. He will also speak to media, along with Alberta Premier Rachel Notley.
---
Wednesday, May 11 ~ PARKSVILLE. The BC Ministry of Forests, Lands and Natural Resource Operations says that effective at noon today Friday, May 13, that Category 2 open fires will be prohibited in most areas of the Coastal Fire Centre.
This is to help prevent human-caused wildfires and protect public safety. The prohibition remains in effect until Oct. 21, 2016 or until the public is otherwise notified.
The prohibition covers all BC Parks, Crown lands and private lands within the Coastal Fire Centre's jurisdiction, with the exception of the area known as the "Fog Zone" and the Haida Gwaii Forest District.
The Coastal Fire Centre covers all of the area west of the height of land on the Coast Mountain Range from the US-Canada border at Manning Park, including Tweedsmuir South Provincial Park in the north, the Sunshine Coast, the Lower Mainland, Vancouver Island, the Gulf Islands and Haida Gwaii [see map].
The Fog Zone is a strip of land along the outer coast of Vancouver Island, stretching from Owen Point (near Port Renfrew) north to the tip of Vancouver Island and around to the boundary of the District of Port Hardy. This strip extends inland 2km from the high tide point. A map of the Fog Zone is available online.
Specifically, this prohibition applies to:
The burning of any material (piled or unpiled) smaller than 2m high and 3m wide.
The burning of stubble or grass fires over an area less than 2,000 sq m.
The use of fireworks, firecrackers, sky lanterns, or burning barrels or burning cages of any size or description. The use of binary exploding targets (e.g., for rifle target practice).
This prohibition does not apply within the boundaries of a local government that has wildfire prevention bylaws in place and is serviced by a fire department. Before lighting any fire, residents should check with local authorities to see if there are any other fire restrictions in effect.  However, recently on south Vancouver Island, open burning has been banned this season by Metchosin, Otter Point and Sooke. A ban by bylaw was already in effect in Langford.
This prohibition does not ban campfires that are a half-metre high by a half-metre wide or smaller, or apply to cooking stoves that use gas, propane or briquettes. People lighting a campfire must maintain a fireguard by removing flammable debris from the campfire area, and they must have a hand tool or at least eight litres of water available nearby to properly extinguish the fire. Campfires must be fully extinguished when not attended.
Any person lighting larger fires (or more than two fires of any size) must comply with open burning regulations and must first obtain a burn registration number by calling 1 888 797-1717.
Anyone who lights, fuels or uses an open fire when a fire prohibition is in place or fails to comply with an open fire prohibition may be issued a ticket for $1,150 or, if convicted in court, be fined up to $100,000 and/or sentenced to one year in jail. If the contravention causes or contributes to a wildfire, the person responsible may be subject to a penalty of up to $100,000 and ordered to pay all firefighting and associated costs.
To report a wildfire, unattended campfire or open burning violation, call 1-800-663-5555 toll-free, or *5555 on a cellphone.
For the latest information on current wildfire activity, burning restrictions, road closures and air quality advisories, go to: www.bcwildfire.ca | Wildifre updates on Twitter  | Wildfire updates on Facebook
---
Wednesday, May 11 ~ VICTORIA.  The BC Government has agreed to help the Capital Regional District (CRD) facilitate a path forward and develop a plan to move Core Area Liquid Waste Management Plan (CALWMP) forward, toward meeting the 2020 deadline.
BC Minister of Community, Sport and Cultural Development, Peter Fassbender, will speak in camera today at the Capital Regional District (CRD) Board meeting. After the meeting, CRD Board Chair, Barbara Desjardins, will speak to the media regarding Minister Fassbender's remarks.
The Core Area Liquid Waste Management Plan (CALWMP) is a 25-year plan under the Environmental Management Act that outlines the Capital Regional District's (CRD) wastewater management strategies, including wastewater treatment for the municipalities of Colwood, Esquimalt, Langford, Oak Bay, Saanich, Victoria and View Royal, as well as the Esquimalt and Songhees Nations. That area serves a population of about 300,000 people. Sooke and the Saanich peninsula already have sewage and wastewater treatment in place.
The current plan, Amendment No. 10 of the Core Area Liquid Waste Management Plan, was developed under the direction of the Core Area Liquid Waste Management Committee and the CRD Board, with input from experts and the public, and was approved by the BC Minister of Environment in March 2016.
"CRD, with support from the Province of BC, is committed to delivering an innovative project that provides benefit to the environment, responds to our changing climate, and adds value to the residents and businesses of our communities and those visiting our region," says CRD Communications senior manager Andy Orr.
---
Wednesday, May 11 ~ NATIONAL. The Canadian Federation of Independent Business (CFIB) is calling on the federal government to reinstate their promised small business tax cut after a Parliamentary Budget Office (PBO) report found that freezing the rate will cost the economy $300 million per year, and will cost small business a whole lot more.
"The reason the small business tax rate exists is to allow small firms to reinvest their earnings back into their businesses," said Dan Kelly, CFIB president. "Freezing the rate handcuffs middle class entrepreneurs' ability to grow the Canadian economy. While the PBO report is a good first step in demonstrating the tax freeze fallout, we believe the long-term impact on employment will be even more significant because small firms are so much more labour intensive than larger ones."
The PBO report also found that the freeze will cumulatively cost small businesses more than $2 billion over the next five years and the effects will carry on beyond the report dates.
"The report gets at what small business owners have been telling the federal government since they broke their promise to cut the tax: freezing the small business tax rate will make it more difficult for small business to invest, limit job growth and hurt the Canadian economy," added Kelly. "The government is taking money from the businesses that need it most."
Kelly will appear before the finance committee on Thursday to raise this issue.
---
Saturday, May 7 ~ VICTORIA. British Columbia continues to marshal emergency management resources and support to assist neighbouring Albertans who have fled the devastating wildfires, said the BC Ministry of Transportation and Infrastructure in a news release today.
On May 6, Premier Christy Clark announced a $300,000 donation from the Government of BC to the Canadian Red Cross to support relief efforts in Fort McMurray, Alberta, adding to donations by British Columbians including at BC Liquor Stores. Over $73,000 has already been raised to date from donations at BC Liquor Stores.
British Columbians who wish to contribute to the Canadian Red Cross campaign can do so by continuing to make a donation at a BC Liquor Store or by donating directly to the Canadian Red Cross: Call toll-free 1-800-418-1111 or donate online at:  http://ow.ly/YQT73000Q5s
Ministry of Health – Alberta has made a national request for health care personnel, including disaster psychosocial volunteers, public health nurses, environmental health officers and paramedics, to be deployed starting at the end of next week.
Health Emergency Management BC (HEMBC) is coordinating BC's health system response to support the disaster in Alberta. So far, in the past 24 hours, 30 disaster psychosocial personnel in BC have already stepped up to volunteer when deployments begin. BC's Disaster Psychosocial Program, operated out of the Provincial Health Services Authority, has a roster of about 220 registered volunteers, which include social workers, counsellors and psychologists.
HEMBC has also reached out to each of the health authorities and BC Emergency Health Services and is working with them to identify any public health personnel and paramedics who may be available to deploy beginning Friday, May 13, 2016.
BC's Mobile Medical Unit – a state-of-the-art mobile medical facility – remains on standby to respond as necessary. The Mobile Medical Unit is a hospital on wheels that can respond to emergency or disaster needs throughout the province and in other jurisdictions.
Ministry of Forests, Lands and Natural Resource Operations – Eighty-one firefighters, 12 helicopters and 12 pieces of heavy equipment from BC are currently battling the Siphon Lake Fire which has crossed into Alberta in the Peace Valley.
Emergency Management BC – Emergency Management BC (EMBC), the lead agency in BC for coordinating and responding to emergencies, has reached out to the Alberta Emergency Management Agency to offer help, including sharing incident management staff that organize and lead in emergency operation centres. EMBC is ready to provide emergency evacuation specialists and a mobile support team of experts in working with emergency social services teams on the ground.
---
Friday, May 6 ~ OTTAWA. "Today, I speak for all Canadians when I say that our hearts go out to the families affected by this terrible fire," said Prime Minister Justin Trudeau today regarding the Fort McMurray fire. We are thinking of – and praying for – the people of Fort McMurray. Though Alberta's loss is profound, we will get through this tragedy together: as friends, as neighbours, as Canadians.
"I encourage everyone to make a donation to www.redcross.ca, and help the thousands of displaced residents of Fort McMurray," Trudeau stated on the PMO's website.  The Government of Canada will match every dollar donated to the Canadian Red Cross in support of the Fort McMurray relief effort.
The federal commitment applies to individual charitable donations made within Canada. It will be backdated to May 3, 2016 and will continue until May 31, 2016. There will be no financial cap on the federal government's contribution. With the Government of Alberta also matching donations, this results in a total of $3 donated when individual Canadians donate $1.
"The outpouring of goodwill and compassion we have already seen from Canadians across the country has not only been inspirational, but stands as a testament to who we are as a nation," Trudeau said.
"I would once again like to thank the many first responders who are working tirelessly, day and night, to fight this fire. To those who have lost so much: we are resilient, we are Canadians, and we will make it through this difficult time, together."
Photo from the Prime Minister's website – Trudeau remarking on the Fort McMurray fire, in the House of Commons
---
Friday, May 6 ~ VICTORIA. Tomorrow, Saturday May 7, is national Wildfire Community Preparedness Day, as declared by FireSmart Canada. This is the second annual Wildfire Community Preparedness Day, an opportunity for communities to learn more about preventing fires and reducing wildfire risks.
British Columbia is experiencing an early and active start to the wildfire season, says the BC Ministry of Forests, Lands and Natural Resource Operations. "So it's more important than ever for communities and individuals to do their part to help protect homes, resources and infrastructure from wildfire threats."
individual homeowners are encouraged to take a really close look at their properties to determine how they could make them more fire-resistant by using simple FireSmart principles.
The recently updated FireSmart Homeowner's Manual was developed specifically to help homeowners reduce the risk of personal property damage from wildfire. The manual contains helpful fire prevention tips.  FireSmart activities may include:
trimming and thinning out trees, shrubs and other vegetation
removing flammable material from the property, such as dead wood or
tree needles
ensuring that woodpiles and other easily ignited items are stored
away from buildings
using fire-resistant construction and landscaping materials
Anyone heading out to BC's beautiful back-country must remain vigilant when doing any open burning, since conditions are very dry in some areas of the province. Information about current campfire and
open burning prohibitions is available on the BC Wildfire Service website
In September 2015, the BC government and the Union of BC Municipalities launched FireSmart Community Grant Program ($500,000) to encourage more communities to participate in the FireSmart program.
"Wildfire prevention is everyone's responsibility and failing to use fire properly comes at a greater cost than ever," says the Ministry of BC Forests, Lands and Natural Resource Operations. On April 1, 2016 the BC government significantly increased ticket fines for 19 different violations under the Wildfire Act and seven violations under the Wildfire Regulation. The fine for failing to comply with a fire restriction under the Wildfire Act has more than tripled, from $345 to $1,150.
Anyone who spots a wildfire, unattended campfire or open burning violation should immediately call *5555 on a cellphone or 1-800-663-5555 toll-free. Current updates about wildfire activity is online at: http://www.bcwildfire.ca
---
Friday, May 6 ~ VANCOUVER. At the Western Premiers Conference in Vancouver this morning, BC Premier Christy Clark outlined to media the various topics that were discussed by premiers/deputy premiers from BC, Alberta, Saskatchewan, Manitoba, and Yukon. 
Health care is funded 17% by the federal government at this time, due to legislation brought in by the previous federal government. Premier Clark said the western premiers want to see it back up to 25%, and hopes the current Liberal federal government will stick to their promise on "addressing the funding formula". She said that, years ago, federal health transfer payments were 50%.  Clark said that as the population ages, health care funding needs will increase. She said that the premiers discussed home care and mental health as issues that are "important to all Canadians".
Premier Clark expressed concern about a Bank of Montreal statement in the last day or so that the Canadian economy will be seriously impacted by the outcomes of the wildfire at Fort McMurray. Apparently the current 1.5% predicted growth rate of the Canadian economy could sink to zero, as the oil resource industry becomes seriously impacted by diminished oil production in Alberta.
Clark said on behalf of all the provinces at this week's Western Premiers' Conference that the western provinces are in favour of Canada being part of the Trans-Pacific Partnership (TPP). They urge the House of Commons to sign that agreement.
Manitoba is not yet officially a member of the Western Premier's Conference, but newly-elected Manitoba Premier Brian Pallister eagerly participated and hopes Saskatchewan and Alberta will welcome Manitoba into the fold.
Emergency management was very much on the agenda for the western premiers, said BC Premier Clark. Alberta Premier Rachel Notley was unable to attend the conference that began May 5 in Vancouver, due to her full attention being on management of the Fort McMurray wildfire impacts. The magnitude of impacts of the fire that began May 3 are becoming more clear as the days unfold. Today during the news conference, Alberta Deputy-Premier Sarah Hoffman (also Alberta minister of health) noted and appreciated, for example that psychological services to support firefighters are needed and being provided by BC.
---
Thursday, May 5. About 88,000 people — the entire population of Fort McMurray, Alberta, have been evacuated from their community due to a wildfire that remains out of control.  Fort McMurray is the third-largest municipality in Alberta, after Calgary and Edmonton. About 25,000 of those residents went north to evade the fire, but resources there are running thin; they will be escorted by RCMP down to Edmonton and Calgary starting Friday.
Continued high temperatures and winds in the range of 30 to 50 km per hour over the first three days of the fire have not abated. The first rainfall in the forecast for Fort McMurray is late Sunday night or early Monday, according to CBC-TV news.
The best way for Canadians to help is to donate funds to the Canadian Red Cross. As of this evening, about $11 million has reportedly already been donated to the Red Cross in just two days. Evacuation from the fire started on Tuesday, May 3.
The Red Cross says they have a network of highly-trained volunteers who are there to help. "We're actively scaling up our operations in response to the fires. We are supporting registration, family re-unification, assisting in shelters in Edmonton and Lac La Biche, as well as providing accommodation and basic necessities like food and water. Specially-trained volunteers are providing care and comfort to those who have suffered emotional trauma. Additional personnel are on standby and ready if needed." The Red Cross says they will be working alongside those affected not just today, but for the weeks and months and even years that follow as they recover. "Canadians looking to help can make a donation to theAlberta Fires Appeal, which will help us deliver assistance to those who need it."
The federal government and the Alberta government are matching all donations – dollar for dollar — as made by Canadians to the Red Cross for the support and relief of Fort McMurray evacuees. Emergency shelters seem to be well-organized and are handling a variety of needs for a large number of people. Not just food and a place to sleep, but also clothing, pet care, and even on-site access to insurance companies reps.
Many of the homes and other buildings in Fort McMurray have been completely destroyed by the fire, as well as many vehicles. The Bank of Montreal has reportedly estimated the number of expected insurance claims to reach as high as $9 billion. By comparison, the insurance claims after the fire at Slave Lake, AB in 2011 tallied to about $700 million.
Some evacuees interviewed on TV said they wonder why the evacuation was not called sooner. Some of them were driving through 'walls of fire' on their way out of town, and had little to no time to gather any belongings.
---
Thursday, May 5 ~ PRINCE GEORGE. Two wildfires in the Prince George Fire Centre that were previously identified as the Beatton Airport Road fire and the Stoddart Road fire have combined to become a single fire. It is now referred to simply as the Beatton Airport Road fire, says the Ministry of Forests, Lands and Natural Resource Operations BC Wildfire Service in a news release around 6 pm this evening.
Due to aggressive fire behaviour, the Beatton Airport Road fire now covers about 10,000 hectares. An incident management team is coordinating the BC Wildfire Service's response to this incident and additional resources have been requested.
Currently, 106 firefighters, five helicopters and six pieces of heavy equipment are working on this wildfire, with the support of air tankers. Ground crews will be working through the night to contain the fire.
The Peace River Regional District has issued an evacuation order and expanded its evacuation alert areas. More information is available on the regional district's website at www.prrd.bc.ca or through its 24-hour information line at 250-784-3200.
As a result of this fire, the Alaska Highway (Hwy 97) has been closed 45 km north of Fort St. John in both directions. The Beatton River Airport 151 Road (Mile 73 Road) and Aitken Creek Road have also been closed. For more information, visit www.drivebc.ca or call the Ministry of Transportation at 250-262-2600.
For up-to-date information on current wildfire activity, burning restrictions, road closures and air quality advisories, visit www.bcwildfire.ca or call 1 888 3-FOREST.
BC wildfire news is on Twitter @BCGovFireInfo and on Facebook .
---
Wednesday, May 4. BC Liquor Stores customers can support Red Cross relief efforts for residents of Fort McMurray.  The emergency evacuation of 80,000 residents from the Fort McMurray area has been required because of the fire that continues to burn out of control (as of 4pm Pacific Time May 4) .
Starting today, BC Liquor Stores customers can donate $2, or $5 or more to help the Red Cross in Alberta reunite family members, provide evacuees with shelter, food and water, and later, assist with longer-term needs as the community rebuilds.
A massive wildfire started spreading in the Fort McMurray region earlier this week, threatening more than a dozen nearby communities, destroying property and forcing residents to flee their homes. After a mandatory evacuation order was issued yesterday, officials estimate as many as 1,600 homes and buildings have been destroyed in an area spanning 10,000 hectares.
Donations made to the Red Cross in BC Liquor Stores from April 27 through May 3 will be directed to Ecuador earthquake recovery efforts, as originally planned.
Coralee Oakes, Minister of Small Business, Red Tape Reduction and Minister Responsible for the Liquor Distribution Branch said in a news release today: "British Columbia knows all too well the devastation of wildfires, and our thoughts are with Fort McMurray during this difficult time. By donating to the Red Cross at BC Liquor Stores, British Columbians are doing our part to support everyone impacted by the fire and ensure they will have a strong recovery."
Blain Lawson, general manager and CEO, BC Liquor Distribution Branch said: "We are proud of our partnership with the Red Cross, and the generosity always shown by our customers and employees during times of crisis. By collecting donations at BC Liquor Stores, we're providing an easy way for people to reach out and help our neighbours in Alberta."
BC Liquor Stores customers and employees have supported Red Cross disaster relief for humanitarian crises at home and abroad since 2003, when stores first collected donations to support victims affected by catastrophic wildfires raging in British Columbia. Since then, more than $2 million has been raised for Red Cross humanitarian crises in Nepal, Haiti, Pakistan, Japan, Africa and Syria, as well as for disaster relief efforts in New Orleans and Alberta.
In 2013, BC Liquor Stores collected more than $170,000 for Alberta Flood Relief.
---
Friday, APRIL 29 ~ VICTORIA. The Province of BC has introduced legislation this week to make campuses safer and more responsive to the needs of victims by requiring public post-secondary institutions to establish sexual misconduct policies within one year of the bill receiving Royal Assent.
"As parents, we expect our sons and daughters will be safe," said Premier Christy Clark in a news release on Wednesday, April 27. "And for students, university is often the first place they're on their own. They have every right to feel safe on campus and today is a step in the right direction."
Recent attention to sexualized violence on university and college campuses and the emergence of new educational and policy initiatives has provided a new focus.
The University of Victoria issued a release the next day, saying UVic will begin consultations in May to develop a separate policy on sexualized violence that will build on current policies and practices and reinforce the university's commitment to a safe campus where sexualized violence is unacceptable. UVic president Jamie Cassels initiated the policy review earlier this year that will include widespread consultation, consider policies and practices at other institutions and learn from local, provincial and national conversations on how to respond to sexualized violence, which can have a profound and long lasting effect on survivors.
"Sexualized violence is a significant issue both on our campus and in the wider community and we have an important role to play as leaders, educators and community partners," says Cassels.  More information is available at www.uvic.ca/info/sexualizedviolencepolicy .
---
Wednesday, APRIL 27 ~ VICTORIA. Health Minister Terry Lake has announced the 73 rural and remote BC communities that will welcome community paramedicine, a program that offers residents enhanced health services from paramedics.
"The Community Paramedicine Initiative is a key component of our plan to improve access to primary health-care services in rural BC," Lake said. "By building upon the skills and background of paramedics, we are empowering them to expand access to care for people who live in rural and remote communities, helping patients get the care they need closer to home," it was stated in a news release today.
The health ministry says: "The program is just one way the Province is working to enhance the delivery of primary care services to British Columbians. The services provided may include checking blood pressure, assisting with diabetic care, helping to identify fall hazards, medication assessment, post-injury or illness evaluation, and assisting with respiratory conditions."
Under this program, paramedics will provide basic health-care services, within their scope of practice, in partnership with local health-care providers. The enhanced role is not intended to replace care provided by health professionals such as nurses, but rather to complement and support the work these important professionals do each day, delivered in non-urgent settings, in patients' homes or in the community.
"As a former BC Ambulance paramedic, I understand the potential benefits of community paramedicine," said Jordan Sturdy, MLA for West Vancouver-Sea to Sky. "Expanding the role of paramedics to help care for the health and well-being of British Columbians just makes sense."
Community paramedicine broadens the traditional focus of paramedics on pre-hospital emergency care to include disease prevention, health promotion and basic health-care services. This means a paramedic will visit rural patients in their home or community, perform assessments requested by the referring health-care professional, and record their findings to be included in the patient's file. They will also be able to teach skills such as CPR at community clinics.
"Community paramedics will focus on helping people stay healthy and the specific primary care needs of the people in these communities," said Linda Lupini, executive vice president, BC Emergency Health Services. "This program also allows us to enhance our ability to respond to medical emergencies by offering permanent employment to paramedics in rural and remote areas of the province."
"Community paramedicine brings improved patient care and more career opportunities to rural and remote areas," said Bronwyn Barter, president, Ambulance Paramedics of BC (CUPE 873). "Paramedics are well-suited to take on this important role in health-care provision."
Community paramedicine was initially introduced in the province in 2015 in nine prototype communities. The initiative is now expanding province-wide, and will be in place in 31 communities in the Interior, 18 communities in northern BC, 19 communities on Vancouver Island, and five communities in the Vancouver coastal area this year.
At least 80 new full-time equivalent positions will support the implementation of community paramedicine, as well as augment emergency response capabilities. Positions will be posted across the regional health authorities. The selection, orientation and placement process is expected to take about four months.
Community paramedics are expected to be delivering community health services in northern BC this fall, in the Interior in early 2017, on Vancouver Island and the Vancouver coastal area in the spring of 2017.
BC Emergency Health Services has been coordinating the implementation of community paramedicine in BC with the Ministry of Health, regional health authorities, the Ambulance Paramedics of BC (CUPE 873), the First Nations Health Authority and others.
---
Tuesday, April 26 ~ VICTORIA. The new McKenzie interchange will be built as a partial cloverleaf reflecting the preferred option of 75% of those who participated in the public consultation, it was announced today by BC Transportation and Infrastructure Minister Todd Stone today. This design is also the safest, most efficient option and best meets the long-term needs of this region, it was stated in a news release. Construction is slated to begin this fall.
"I would like to thank everyone who has taken the time to let us know their thoughts on the McKenzie interchange project, as this input is fundamental to ensuring the interchange meets the needs of those who will be using it," said Stone. "We heard overwhelming support for the partial cloverleaf design, supported by the team's ongoing technical analysis, and now our work continues in discussing further details with stakeholder groups and the public as we finalize the design.
The first open house was held Nov. 17, 2015 with 610 attendees. The second open house was held February 24 2016 at which 353 people attended (see February 26, 2016 West Shore Voice News, page 1).
The McKenzie Interchange project is costing $85 million. The BC government is spending $53 million and the federal government portion is $32.6 million. The project was first announced on July 22, 2015 along the roadside of Hwy 1. See July 24, 2015 Sooke Voice News, page 1.
Technical analysis shows that the partial cloverleaf will operate more safely and efficiently than other option – the diamond interchange. The partial cloverleaf reduces the chances of collisions and, as such, is expected to provide $4 million in additional safety benefits over the other options in just the first 20 years. As well, with no stop lights for vehicles turning left onto McKenzie, travel will be more efficient for traffic now and for expected traffic volume in the future.
The design also improves access for cyclists, pedestrians and transit users, making travel better for transit users and safer for cyclists and pedestrians, says MOTI. It provides a separated route for a wider Galloping Goose Trail with a new path over the highway and McKenzie Avenue, avoiding the lights and vehicle traffic. The project will also include bus lanes, transit priority signals, and improved connections to bus stops.
"Saanich's interest in this project has always been to ensure that the preferred option addresses the long-term needs of our community," said Saanich Mayor Richard Atwell. "We look forward to continuing our work with the Province of BC on this important transportation initiative."
The partial cloverleaf has a larger footprint on the surrounding area affecting Cuthbert Holmes Park. The BC Government says it remains committed to developing the project in an environmentally responsible way and in the best interest of residents. As the project moves forward, staff will continue to work closely with stakeholders, including the District of Saanich, community associations and park stewards in preparing a comprehensive plan to mitigate the impact on the environment, and ensure there is no net loss of park land.
A third open house is coming up on Wednesday, May 18, 2016 (3:30 to 7:30 pm) at St. Joseph the Worker Parish Hall, 753 Burnside Road West. Meetings will also continue with stakeholder groups to develop the remaining details around cycling and pedestrian connections and noise mitigation strategies. The ministry will showcase the final plan at a third open house scheduled for
During the second round of public engagement in February, 75% of respondents supported the partial cloverleaf option (59% strongly agreed; 16% somewhat agreed). As well, 75% of people agreed with the pedestrian and cycling facilities proposed as part of the interchange project (45% strongly agreed; 30% somewhat agreed).
The McKenzie Interchange project team has reviewed more than 1,580 pieces of feedback. Since its launch, the McKenzie Interchange project website has been viewed more than 17,000 times. Results from the second round of consultation can be viewed at: http://engage.gov.bc.ca/mckenzieinterchange/
---
FRI APRIL 22 ~ VICTORIA. The BC government is distributing over $1.7 million in new grants to help control the spread of invasive plants in the province, Forests, Lands and Natural Resource Operations Minister Steve Thomson and Parliamentary Secretary Donna Barnett announced today, Earth Day.
The 31 grants will be given to regional invasive species committees, local governments and the Invasive Species Council of British Columbia to support their efforts and the goals of the provincial Invasive Plant Program. This funding is additional to the $935,000 already allocated by the Ministry of Forests, Lands and Natural Resource Operations and the $2.1 million allocated by the Ministry of Transportation and Infrastructure for invasive plant control and management in 2016-17.
Invasive plants are species that have been introduced into British Columbia from other areas. They displace native vegetation, can cause significant economic and environmental damage, and may pose health risks to people and animals. Invasive plants can disrupt natural ecosystems, reduce biodiversity, increase soil erosion, alter soil chemistry and adversely affect commercial crops.
---
FRI APRIL 22 ~ VICTORIA. For Earth Day, the Government of British Columbia has announced $1.4 million from the Innovative Clean Energy (ICE) Fund for a suite of programs to help homeowners reduce energy bills and greenhouse gas emissions and to support training in the construction of high performance,energy efficient homes. The funding will be distributed as follows:
$600,000 to provide rebates of up to $1,700 for homeowners to convert from oil heating to an all-electric air source heat pump. An oil-to-heat pump conversion provides, on average, the highest greenhouse gas emission reduction of any single upgrade for single family residential homes. This funding is in addition to $600,000 provided for the Oil-to-Heat Pump Incentive Program in 2015 and will ensure incentives continue to be available for homeowners to make the conversion from oil to electric heat  pumps.
$600,000 to support the training and use of energy coaches who conduct home energy evaluations, identify opportunities for energy efficiency upgrades  and explore retrofit options with homeowners. The funds will be directed through the joint BC Hydro – FortisBC Home Energy Rebate Offer (HERO) program and will be used to establish training for energy coaches and to provide a subsidy for homeowners to offset the cost of energy coaching services.
$100,000 to subsidize training for building professionals in Passive House  design and construction. The international Passive House standard is one  of the most rigorous and advanced building performance standards in the  world, achieving reductions in heating energy of up to 90%, compared to  other buildings. This system of construction requires specialized training and experience. This funding is in addition to $100,000 provided  for the Passive House Training Subsidy in 2015 and will help more  builders, architects, engineers and municipal planning professionals take  courses in Passive House principles.
$100,000 to subsidize courses offered by the Canadian Home Builders' Association (CHBA) and service organizations licensed by Natural Resources  Canada (NRCan) in three national high-performance building standards:  ENERGY STAR for New Homes Initiative, R2000 and Net Zero Energy (NZE)  Homes Builder Training. The funding will build on the Passive House  training incentive by broadening provincial support to a range of high-performance building standards and help to increase the number of high-performance builders, homes and buildings in British Columbia.
The ICE Fund is designed to support government's energy and environmental priorities and advance British Columbia's clean energy sector. It receives funding through a 0.4% levy on the final sale of specified energy products such as natural gas, fuel oil and grid-delivered propane.
---
FRI APRIL 22 ~ OTTAWA. On Earth Day and during his visit to the United Nations today in New York, Prime Minister Justin Trudeau has issued the following statement on International Earth Day:
"Today is Earth Day. It is an opportunity for us to cherish and celebrate Canada's natural beauty from coast to coast to coast. We also take this day to reflect on the impact that each and every one of us can – and must have – on the world around us. We must protect our environment – clean air to breathe and clean water to drink means better health for all Canadians. The Government of Canada has already demonstrated leadership and courage as it tackles climate pollution. We have taken important steps with our partners to grow cleaner businesses, develop clean technologies, reduce the footprint of our resource sector, and protect our National Parks. Climate change is the great global challenge of our time, but it is also an opportunity for those willing to solve it. Around the world, communities grapple with the complications of a rapidly changing environment. Strong action is needed to address the issues we face – and build a cleaner, stronger, and more sustainable world. On this day, I encourage all Canadians to join us in our efforts to conserve and safeguard our natural environment. Every single Canadian has a role to play to protect our earth and leave our children a better world than the one we inherited from our parents."
Canada has signed on to a UN agreement to do its part to not let greenhouse gas emissions contribute to a global temperature increase of beyond 2°C (compared to pre-industrial levels). Canada's official inclusion in the agreement must still be ratified by the House of Commons.
[Photo: screen shot from UN news coverage online, April 22, 2016]  
---
THURS APRIL 21. As part of recognizing Earth Day, on Friday, April 22, the Honourable Judith Guichon, Lieutenant Governor of British Columbia, will host an event for students on the Government House grounds in Victoria. The activity is being undertaken in partnership with Growing Young Farmers and the Friends of Government House Gardens Society.
Students from Sir James Douglas Elementary, Oaklands Elementary, Tillicum Elementary and Happy Valley Elementary will learn about organic farming, growing their own garden and the importance of different species to the ecosystem, including bees and ducks, all in a fun and hands-on environment.
The students will come together for closing ceremonies at the bandshell where the Lieutenant Governor will speak to them about the importance of learning about the natural environment.
---
THURS APRIL 21 ~ OTTAWA  – Prime Minister Justin Trudeau today issued the following statement on the 90th birthday of Her Majesty Queen Elizabeth II, Queen of Canada:
"Today, Sophie, our children, and I join Canadians across the country to celebrate the 90th birthday of Her Majesty Queen Elizabeth II, Queen of Canada.I am deeply mindful of Her Majesty's long and tireless service to the Commonwealth and its citizens. Since Her Majesty acceded to the throne in 1952, Queen Elizabeth II has served with dignity, wisdom, and grace. Over the past 64 years, Her Majesty has stood with Canada through key moments of our country's history and, as our nation underwent change and transformation, has been a rock of stability and a steadfast keeper of tradition. Today we admire her devotion to duty, and are thankful for her deeply-held affection for our country and unwavering loyalty to all Canadians. On behalf of the Government of Canada, I wish Her Majesty Queen Elizabeth II a happy 90th birthday, and continued health and happiness for many years to come."
CBC TV carried live coverage of a long walkabout that the Queen undertook on her 90th birthday today near Windsor Castle (CBC screenshot above).
---
WED APRIL 20 ~ VICTORIA – The Honourable Judith Guichon, Lieutenant Governor of British Columbia, released the following statement in advance of Her Majesty Queen Elizabeth II's 90th birthday on April 21, 2016.
"On behalf of the people of British Columbia, I extend my congratulations and best wishes to Her Majesty on her 90th birthday. Throughout the world Her Majesty is admired for her dedication to service, her devotion to service above self, and the dignity, nobility and wisdom she has exhibited throughout the decades. As Queen of Canada for more than 63 years, Her Majesty has established a special bond with our country, strengthening this connection on the more than 20 occasions that she has visited us and acknowledging Canada's connection to the monarchy. In person, or through the Royal Family, she remains fully engaged in the growth and evolution of our country to this day. There are few sovereigns in history that have had such a positive impact on their peoples and provided such stability. Join me in wishing Her Majesty a very happy birthday and in celebrating our good fortune as a country with a stable and enduring system of government. Long live The Queen!"
British Columbians are invited to offer their congratulations to Her Majesty between April 21 and June 18 by signing the congratulatory books in Victoria, located at Government House, 1401 Rockland Avenue, or at the Reception Hall of the Parliament Buildings, during open hours. If people wish to send virtual congratulations, they can do so in English at: www.gg.ca/QEII90 or in French at: www.gg.ca/REII90
---
TUES APRIL 19 ~ VANCOUVER:  Over the past year, BC Liquor Stores customers have returned approximately 94 million beverage containers to their local liquor store – enough to fill more than 22 Olympic-sized swimming pools.
It's just one of many "green" success stories the BC Liquor Distribution Branch (LDB) is celebrating in anticipation of Earth Day on April 22, says the BC Ministry of Small Business and Red Tape Reduction and Responsible for the Liquor Distribution Branch.
The LDB first became a green leader more than four decades ago when it started its beverage alcohol container return program in 1971. At the time, the minimum refund on beer containers was two cents, compared with today's minimum refund of 10 cents. The containers themselves are now recycled into products as diverse as fibreglass insulation, park benches and sand for golf-course sand traps.
Since 2010, the LDB has invested in 18,621 tonnes of BC carbon offsets, which is equivalent to taking nearly 4,000 passenger vehicles off the road for a year.
---
FRI APRIL 15: The Independent Investigation Office of British Columbia (IIO BC) is investigating the fatal Langford collision involving the death of Cst. Sarah Beckett on April 5, 2016.
The April 5 fatal collision occurred in the intersection of Peatt Road and Goldstream Avenue, resulting in the death of Cst Beckett. The criminal investigation is being led by the RCMP Island District General Investigations Section (GIS), while the Saanich Police Department are overseeing the collision scene investigation.
On April 15, the IIO BC confirmed they will be conducting an independent investigation into the events leading up to the fatal collision and whether the actions or inactions of any police officer may have been a contributing factor.
---
THURS APRIL 14 ~ TOFINO: Emergency Management BC will be kicking off Tsunami Preparedness Week in British Columbia with a "high ground hike" in Tofino on Friday, April 15.
Minister of State for Emergency Preparedness, Naomi Yamamoto, will be joined by Tofino Mayor, Josie Osborne, and children from Wickaninnish Elementary that are participating in the first-ever Tofino High Ground Hike.
The students will receive emergency kits for participating in the 1 km route that follows the Tofino tsunami evacuation route to the district's high ground assembly area.
BC's $1.2-million earthquake exercise taking place in Port Alberni on June 7-10, 2016 will be BC's first-ever, full-scale, earthquake exercise to emergency response throughout the entire provincial landscape, said Minister of State for Emergency Preparedness Naomi Yamamoto today in Victoria.
---
SUN APRIL 10 ~ EDMONTON: UPDATE 12 noon (Pacific): The NDP convention gave their Leader Tom Mulcair only 48% support to carry on; a goal of around 70& was considered necessary for him to continue as leader. In a short speech he said he will stay on until a new leader is determined. A leadership convention must be held within 12 months, according to the NDP Party constitution.
As posted earlier today, Sunday morning: Federal NDP Leader Tom Mulcair will address the 2016 NDP convention delegates in Edmonton this morning, starting around 9 am Pacific Time.
The general direction of the convention has, during this weekend (April 8 to 10), seen an internal conflict of mindsets … progressive in terms of traditional NDP progressive change, and desires to become an electable party with an electable leader.
On Friday night there was a live-streamed series of statements from delegates as a manner of debriefing about how the NDP handled the Fall 2015 election campaign, and how they fell from 95 seats in the House of Commons to the present 44.
It may come out in time how much Mulcair had to bend during the election campaign (by choice or otherwise) to the directives of the party leadership, as to how to unfold the campaign.
---
FRI APRIL 8 ~ VANCOUVER / VANCOUVER ISLAND: BC Ferries is offering free complimentary travel for emergency first responders who are travelling to attend the memorial service for Cst Sarah Beckett on Tuesday, April 12. As well, an additional Tsawwassen – Swartz Bay sailing has been added for 10 a.m. on April 12. The Memorial Service will be held at 2 p.m. at The Q Centre in Colwood.
West Shore RCMP Constable Sarah Beckett, 32, was killed in a motor vehicle incident while on duty in the early morning hours of April 5. See more about the crash and Cst Beckett on the West Shore regional news page (April 6 entry, updated April 8).
"With 47 terminals around the province, BC Ferries works closely with all police services in BC and we sincerely appreciate their support," said Corrine Storey, BC Ferries' Vice President of Customer Services. "This offer is a small gesture to show our support and appreciation for all officers and first responders around the province who work diligently to keep our communities safe."
Complimentary travel for Emergency First Responders is valid on April 12 and 13 on any BC Ferries route travelling to and from Vancouver Island for the Memorial Service. Officers and Emergency First Responders will be asked to identify themselves to ticket agents by uniform or official ID. For those travelling to attend the Memorial Service, advance reservations are recommended by calling 1-888-BC FERRY (223-3779).
---
TUES APRIL 5 ~ NATIONAL: Federal Finance Minister Bill Morneau today highlighted new investments that benefit students and post-secondary institutions in the Government's first budget, Growing the Middle Class. He was joined by University of New Brunswick and St. Thomas University students during a Facebook Live townhall.
Morneau highlighted government investments in knowledge infrastructure that will encourage innovation and discovery, to "help provide students access to leading-edge training and research experiences". The budget provides $2 billion over three years for strategic projects that will improve research and innovation infrastructure at universities and colleges, it was announced in a news release today.
The Minister outlined these and other Budget 2016 measures in the student townhall, as part of the Liberal government's plan to invest over $120 billion in infrastructure over the next 10 years, "which will create more modern, cleaner communities, a more inclusive society, and an economy better-positioned to succeed in the global economy of tomorrow". He said: "Important investments would be made in New Brunswick, in consultation with municipalities, the province, as well as other key stakeholders".
Morneau also highlighted Budget 2016 measures that the Liberals feel will make post-secondary education more affordable for students from low- and middle-income families, and that will reinvigorate Canada's research and science base by investing in infrastructure at post-secondary institutions.
Morneau spoke with students about how budget measures will make it easier for them to repay student debt, and how the Government will help young Canadians start their careers and find meaningful work. The grant and loan system has been adjusted, and will eventually eliminate having to claim assets and declare income (income will be determined from tax reporting, based on parents' income – see list below). The grants starting 2016-2017 are proposed as follows:
• $3,000 per year for students from low-income families
• $1,200 per year for students from middle-income families
• $1,800 per year for part-time students
Student loans will not need to be repaid until a person is earning over $25,000 per year. The tax deduction for textbooks will be eliminated starting for the 2016 reporting year.
---
FRI APRIL 1 ~ BC:  Today April 1, 2016, rates for electricity sold to BC Hydro customers has increased by 4 per cent.  Apparently that equates to an additional $4 per month for the average household.
BC Hydro's five-year series of rate increases continues, with this year's 4% increase coming into effect on the heels of the 9% increase at April 2014 and 6% increase at April 2015. Over the five-year spread of increases (2014-2018) rates will have increased by over 28%.
See more details below (see article posted March 27).
---
THURS MARCH 31 ~ VANCOUVER: Recommendations for reducing the number of fatalities that occur on BC roadways were released today by the Office of the Provincial Health Officer, in a report called Where the Rubber Hits the Road: Reducing the Impact of Motor Vehicle Crashes on Health and Well-being in BC.
In support of the BC Road Safety Strategy (first released in 2013 and further enhanced in January 2016), this report is looking for changes to roadways, legislation, and people's behaviour in an overall strategy to reduce motor vehicle accident fatalities to zero.
Presenting the report to media today were Dr Perry Kendall, provincial health officer; Dr Bonnie Henry, Deputy Provincial Health Officer; Neil Arason, Manager, BC Road Safety Strategies, BC Ministry of Public Safety and Solicitor General; and Lisa LaPointe, Chief BC Coroner.
"Notable progress that has been made (compared to other jurisdictions) but we still have some distance to go to achieve this end," said Dr Kendall about aiming to achieve zero fatalities from vehicle crashes.
"The goal is to achieve the safest roads in North America," said Dr Henry. She said that "no one should die from a preventable cause on our roads in BC," and that the report in particular addresses "the most vulnerable road users" as part of reaching that goal. "The focus of the recommendations is on "vulnerable road users" in order to "bring down the indicators for all". She says BC should be encouraging walking, cycling, and public transportation as viable options to driving in vehicles.
Of the 28 recommendations, seven have to do with road safety strategy, said Dr Henry. She said that protecting pedestrians increases the efficiency of roads, and that collaboration of many different agencies is important to that end.
Dr Henry outlined the need to "start looking at an independent centre for excellence in road safety in BC" whereby researchers would have access to data.  She said it was a "challenge to bring data together and link it and look at it in a comprehensive way" for the new report. Data in the report only goes up to 2013, she said.  The proposed research centre with independent researchers would have access to data including behavioural, engineering, vehicles, etc and "how to get people to be safer in their use of roads". She noted safety concerns regarding pedestrians, and elderly people who are still driving.
Extending required blood alcohol level is in the report's recommendations. Release from the new driver program happens at about the same age that alcohol use is legal in BC. Other countries apparently require zero blood-alcohol content to age 21 or 25.
Dr Henry also said that there needs to be an improved capacity to identify impaired driving. She noted that the federal government is working to legalize marijuana, but that "we do not have good strategies to understand the effect on drivers".  In that same vein of impaired driving, Dr Henry mentioned the shortfalls in driving capacity for an aging population, saying the independence is supported but "how that may affect their ability to drive safely".
For urban road ways, there is a recommendation that the default speed limit be 30 km per hour (compared to the present 50 km per hour). The speed of 30 km per hour was called "a survivable speed" by Dr Perry Kendall during the news conference, adding that municipalities would need to decide about this for their own communities.  The speed limit could be higher in urban communities areas if there are medians and other protections for cyclists and pedestrians. "These strategies are effective if used with community support. Revenues from some of these programs go back into improving road safety," said Dr Henry.
"Safe routes for cycling and walking can't be over stated," said Dr Henry. Drivers and how fast they are going competes with the needs of cyclists and pedestrians. "Protecting pedestrians increases the efficiency of the roads."
This is the first-ever public health report devoted to road safety, it was noted by Neil Arason, Manager, BC Road Safety Strategies, BC Ministry of Public Safety and Solicitor General in his opening remarks. He called the release of the report a "milestone that signals the crucial attention that this topic deserves for public health". "It's clearly a public health issue — look at the number of people killed on the roads," said Arason.
Existing BC road safety strategy was updated in January 2016, said Arason. The goal of "zero deaths on the road" requires "knowledge and innovations", said Arason, noting that "the steps to get there are in the PHO report".
"Road injuries and deaths are a human-made problem with human-made solutions," said Arason, who has also written a book No Accident: Eliminating Injury and Death on Canadian Roads that was released in 2014.
Arason said that BC can reduce road trauma. "We largely know what works and what doesn't. Humans make mistakes, but we can design a road system that takes that into account."  He used, an example, that safety caps on pill bottles works better to keep children safe than reminders to parents. "Safe road system can do more than endless exortations to drive more safely," said Arason.
The new way forward is to "get away from a silo'd approach, and move to: partnership, collaboration and health promotion," said Arason. "That will help elevate road safety, from being 'just accidents, with little we can do about them' to "system failures that have solutions".
---
WED MARCH 30 ~ VANCOUVER. BC's Provincial Health Officer Dr. Perry Kendall will release his report on road safety in British Columbia, on Thursday morning, March 31, at BC Children's Hospital. Details to come.
---
TUES MARCH 29 ~ OTTAWA. Prime Minister Justin Trudeau today announced that he will travel to Washington, DC to attend the 2016 Nuclear Security Summit, March 31 to April 1.  Canada supports a strong multilateral framework for the global fight against nuclear terrorism – one of the gravest threats to international security, said a news release from the Prime Minister's office today.
The 2016 Nuclear Security Summit aims to bring the international community together in order to combat the threat of nuclear terrorism around the globe. The Summit will provide a forum for world leaders to reinforce commitments, at the highest levels, to enhance the security of their nuclear and radiological materials and combat nuclear terrorism.
"We are committed to working with the international community to prevent nuclear terrorism – a very real social, political, economic, and environmental threat. We must take the necessary steps to enhance our collective security so that Canadians and others around the world can feel safe and free in their communities,."– Rt. Hon. Justin Trudeau, Prime Minister of Canada
• The 2016 Nuclear Security Summit will be the fourth and final summit. It has been characterized as a 'transition Summit'. It will focus on ensuring that the achievements of the Summit process are sustained and that work continues in the years ahead to strengthen the international nuclear security architecture. The first Nuclear Security Summit was held in Washington, DC in 2010, and was followed by additional Summits in Seoul in 2012 and The Hague in 2014.
---
SUN MARCH 27 ~ BC:  BC Hydro rates are going up 4 per cent effective April 1, 2016.  BC Hydro's five-year series of rate increases continues, with a 4% increase coming into effect on Friday, April 1 on the heels of the 9% increase at April 2014 and 6% increase at April 2015. Over the five-year spread of increases (2014-2018) rates will have increased by over 28%. There appears to be no recognition of the increasing cost of living in almost every other sector of the economy, or how wages are stagnant or job losses are affecting people. It's unlikely that home energy conservation can be much more effective for more households than it is already. This is burdens the average family who will probably need to find something else to cut back on.
| | |
| --- | --- |
| Date | Rate Increase (%) |
| April 1, 2014 | 9% |
| April 1, 2015 | 6% |
| April 1, 2016 | 4% |
| April 1, 2017 | 3.5% |
| April 1, 2018 | 3.% |
No doubt electricity demand is 'here to stay' and increasing, in a highly tech-saturated society where just about everything is plugged in, from appliances to smart tech devices, to electric vehicles. But the sudden hit of increases under the current BC Liberal government in 2014 and 2015, followed by the slow-drip increases of 2016-2018 is not a kind measure upon the BC residential electricity customer, and is effectively an indiscriminate tax burden.
The trickle-down effect is not subtle. As an example, school boards across the province must pay more every year to provide electricity in schools and administrative offices — money that 'must be found in the budget elsewhere' and does not go to teachers or supplies for classrooms. This impact families. Municipalities must pay more to light their streets and run their offices; they is shifted to the municipal taxpayer. This affects communities.
T
he two-step residential rate is inappropriately promoted by BC Hydro as 'encouraging conservation'. The point where Step 1 usage shifts to Step 2 is so low (Step 1 cuts off at 1,350 kWh), that few if any households would be able to 'conserve' (cut back) enough to avoid slipping into Step 2.  Most appliances and electronics draw power 24/7 even when not in active use; easy pickings.
Even if increases are required from a BC Budget perspective, the overall disregard for BC taxpayers cost-of-living in the outlay of BC Hydro rate increases should concern voters province-wide. The minimum wage increase coming September 15, 2016 won't go far for many families, with all the cost increases of living in BC.
---
 SUN MARCH 27:  Today is Easter Sunday.  
Prime Minister Justin Trudeau issued a statement for Easter, including: "As we gather with those most important to us, let us put into practice what it truly means to love our neighbours as ourselves."
BC Premier Christy Clark issued a statement for Easter, including: "No matter what your personal beliefs or faith may be, Easter weekend is an opportunity to spend more time with friends and loved ones. I wish all British Columbians a happy Easter Weekend."
---
TUES MARCH 22 ~ national: The budget unveiled today by the federal Liberal government is packed with fulfilled promises, and a few significantly broken ones too. Strong on overall social safety net (long overdue) but lacking in support for small business (worrisome).
Political analysis coming in our March 25th weekly print/PDF edition of West Shore Voice News.
---
FRI MARCH 18 ~ GULF ISLANDS:  Island Health posted a boil water notice for the Lyall Harbour – Boot Cove Water System on Saturna Island yesterday, and it remains in place today. A positive test result for E.Coli had been found.
The Drinking Water Officer, in consultation with the Medical Health Officer, recommends the following steps be taken to minimize the risks associated with this water system. Boil water advisory to be in effect until the results from the water sampling analysis meet the drinking water standards. A handout with further information has been provided, including that "during this Boil Water Advisory, household tap water may be disinfected by boiling it vigorously for 1 minute".
"This notice remains in effect until another public notice is issued by the Drinking Water Officer advising that the Notice has been rescinded," says the Capital Regional District (CRD) which promoted the advisory yesterday.
---
SAT MARCH 12: Tonight before bed is a great time to set your clocks forward by one hour if your part of the country follows Daylight Savings Time. The actual spring-forward time is 2:00 am on Sunday morning, March 13.
Computers and smart-technology usually change the time automatically, so that just leaves wall clocks, some microwaves, clocks in older cars, and maybe the odd clock tower or two to be changed manually!
In recent months, there has been renewed interest in the possible detriment of fiddling with people's circadian rhythms when the clocks go forward and back, including documentation of more car accidents. It may cause missed appointments or even problems with sleep patterns and insomnia.
A petition online launched last fall by Bob Dieno of Kamloops, BC achieved several thousand signatures asking to have Daylight Savings Time cancelled in BC. He cited increased traffic collisions for up to one week after clocks are turned forward or back.  "Our original goal was 10,000 signatures (which we reached in early Nov 2015) but in meetings with Honorable Ministers Terry Lake (Health) and Todd Stone (Transportation) they suggested we have at least 30,000 on the petition," says Dieno. There are presently 24,714 signatures on the online petition.
---
THURS MARCH 10 ~ VICTORIA: BC Ferries reminds customers that a major fleet-wide pricing promotion of 30% savings on passenger fares starts today. All passengers travelling on select sailings from March 10 to 29 will receive the discount off the regular passenger fares, which is great news for families planning spring break getaways.
The promotional discount is applicable on adult, child, BC Senior, student and persons with disabilities regular passenger fares. On South Coast routes, the 30% discount will be in effect Monday through Thursday and Saturdays on select sailings from March 10 to 29. On North Coast routes including Port Hardy – Prince Rupert, Prince Rupert – Haida Gwaii and Alliford Bay – Skidegate routes as well as the Discovery Coast connector, the 30% discount will apply on every sailing March 10 to 29.
Experience™ Card users who receive a year-round discount that is less than 30% will have their discount increased to match the promotional fare on promotional sailings. Experience™ Card users who receive a year-round discount that is in excess of 30 per cent will remain at their current discount level. This promotion allows those customers who do not participate in the Experience™ Card program an opportunity to travel at a discounted rate. Info: www.bcferries.com
---
THURS MARCH 10 ~ VICTORIA: Today the BC Government introduced much stiffer fines under the Wildfire Act. Proposed legislative amendments introduced today as part of the Forests, Lands and Natural Resource Operations Statutes Amendment Act (Bill 12) include provisions aimed specifically at people who interfere with firefighting efforts in British Columbia.
Additional legislative changes will result in significantly increased ticket fines for 19 different violations under the Wildfire Act and for seven different violations under Wildfire Regulation. These changes mean that BC now has some of the highest wildfire-related violation ticket fines in the country.
For example, the fine for failing to comply with a fire restriction under the Wildfire Act is increasing from $345 (including a $45 victim surcharge) to $1,150 (including a $150 victim surcharge). This represents a 333.33% increase over the old fine for that offence.
In addition,  Bill 12 clarifies what is considered to be "interference", in terms of actions that could hinder firefighters. The proposed amendments would also clarify that interference does not have to be intentional to constitute a contravention of the Wildfire Act.* The proposed amendments to the Wildfire Act would strengthen compliance and enforcement provisions by establishing an offence and penalties of up to $100,000 and/or imprisonment for up to one year for failing to comply with a stop work order.
On average, 3% to 40% of wildfires in British Columbia are caused by people. The 2015 fire season was one of the busiest and most expensive in recent years, with over 283,400 hectares burned and over $278 million spent on wildfire management, the Ministry of Forests, Lands and Natural Resource Operations reported today.
---
WED MARCH 9 ~ OTTAWA:  Today the Bank of Canada announced it is holding the benchmark rate steady at 0.5% for the fifth time in a row. It is likely that Bank of Governor Stephen Poloz who made the announcement today  is waiting for the Liberal government infrastructure spending to kick in with the 2016 Budget (being announced March 22).
The Bank says it "judges that the overall balance of risks remains within the zone for which the current stance of monetary policy is appropriate," and is thus keeping the benchmark at 0.5%.  The prime rate at major banks is 2.7%.
"The low level of oil prices will continue to dampen growth in Canada and other energy-producing countries," but "Canada's GDP growth in the fourth quarter was not as weak as expected," it was stated today by Poloz. He said that global growth is expected to strengthen this year and next, and expansion of the US economy remains broadly on track.  Apparently inflation in Canada is evolving as anticipated.
Photo Web Source – Reuters
---
TUES MARCH 8 ~ NATIONAL.
Prime Minister Justin Trudeau today issued the following statement on the occasion of International Women's Day:
"On this special day, we celebrate the many achievements of women in Canada – and around the world – and we reaffirm our commitment to gender equality. While we have made enormous progress towards equality over the years, we know that we still have a lot of hard work to do. Far too many women and girls continue to face injustices and discrimination. It is unacceptable that in 2016, women are still denied an education, forced into an early marriage, or made victims of gender-based violence."
"As leaders, as parents, as community members, upholding women's rights should be – and must be – a priority for us all. Canada's theme for this year's International Women's Day – Women's Empowerment Leads to Equality – reminds us that we all benefit when women and girls have the opportunities and the resources they need to succeed.  We remain committed to advancing gender equality, so that Canada can become a country where all women and girls can reach their full potential."
"Today, I encourage all Canadians to join me in celebrating International Women's Day. I also urge you to take part in the Government of Canada #YouAreEmpowerment campaign to honour a woman who has inspired you."  
---
SUN MARCH 6 ~ USA.
 A US TV-watching audience of probably about 10 million people will provide 'rock star' exposure to Canadian Prime Minister Justin Trudeau
tonight on the CBS news magazine show
60 Minutes
.
A blurb on the CBS website calls Trudeau "a scion of Canadian political royalty" from a family often compared to the Kennedys in the US.
In his interview, Trudeau defends bringing in Syrian refugees and says that building walls is not a way to engender positive politics.
The interview precedes the visit of Prime Minister Trudeau and his wife Sophie Grégoire-Trudeau to Washington, DC this coming week, where they will be guests at a State Dinner at the White House on Thursday night, March 10. Prime Minister Trudeau will make a joint press conference with US President Barack Obama earlier that day, where 'announceables' are likely to be along the lines of environmentalism and dealing with climate change.
The one-hour 60 Minutes show airs at 7 pm (Pacific Time) tonight Sunday March 6 (Cable Ch 14 in the Greater Victoria area). 
---
THURS MARCH 3 ~ VICTORIA.
Camping reservations open on March 15.
 Camping season is about to open in BC Parks, with the Discover Camping
www.discovercamping.ca
reservation system opening on Tuesday, March 15 (7am), said the BC Ministry of Environment in a news release today.
Discover Camping will begin accepting reservations for most campgrounds. Individual camping sites in many provincial parks can be booked up to three months in advance through the website or through the call centre (1-800-689-9025; $5 surcharge). Discover Camping is smartphone-friendly.
New for the 2016 camping season, families can now reserve campsites in Dry Gulch, Inland Lake and Okanagan Falls provincial parks. There are also reservable campsites at Ruckle Provincial Park, as well as two new group camping sites at Syringa and Kootenay Lake provincial parks. For more adventurous campers there are two small rustic trapper's cabins in Wells Gray Provincial Park that are reservable for the first time this year.
Groups can also now book picnic spots at Summit Lake, Ten Mile Lake, Lac La Hache and Green Lake provincial parks. Although individual campsite reservations don't open until March 15, 2016 all inventory for 2016 will be visible on the Discover Camping website at 9 am on Wednesday, March 9. On March 9, new group sites can be booked (all group sites are reservable up to 12 months in advance).
Discover Camping displays the availability, layout and amenities of 122 campgrounds – showcasing more than 5,800 campsites throughout BC. Approximately half of all BC Parks camping opportunities remain on a first-come, first-served basis.
In 2015, more than 158,000 reservations were made through Discover Camping – an increase of almost 19% over 2014. Of all reservations in 2015, 73% originated from within BC. Parking is free in all provincial parks. 
---
THURS MARCH 3 ~ VICTORIA.  British Columbia residents who are making an effort to lead healthier lifestyles can now be rewarded with loyalty points such as Aeroplan, PetroPoints, Scene and MoreRewards, thanks to an innovative new mobile app called Carrot Rewards.
Users across the province who sign up for Carrot Rewards will be able to earn their choice of leading, brand-name loyalty points for completing activities centered on making healthier lifestyle choices. This can include anything from completing a health profile, to participating in learning activities and quizzes, and in later phases will include activities like going to the gym, visiting a flu clinic, or buying produce from the grocery store.
Carrot Rewards is delivered through a partnership between the Public Health Agency of Canada, the B.C. Ministry of Health, Social Change Rewards, the Heart and Stroke Foundation, the Canadian Diabetes Association, and YMCA Canada. The app works on smartphones and is available free of charge on iTunes and Google Play, or by visiting: http://www.carrotrewards.ca  
---
THURS MARCH 3 ~ VANCOUVER.  Trudeau met with indigenous leaders ahead of meeting with provincial premiers. "Climate change is the greatest collective challenge we face as a nation," said Prime Minister Trudeau yesterday in a news release out of Vancouver. He is in Vancouver this week for the Globe Series – Business Innovation for the Planet, and to meet with provincial premiers to try hammering out a carbon tax and to promote green technology as a balancing factor to the resource industry.
"Today's meeting affirmed that our leaders, from coast to coast to coast, we will stand together in their passion and commitment to tackling climate change and growing the economy. We will work collaboratively with First Nations, Inuit, and Métis across the country to ensure a more sustainable and prosperous future for Canada."
---
WED MARCH 2 ~ VANCOUVER.
  $75 million to Federation of Canadian Municipalities and $50 investment in building codes to improve climate resilience.
Prime Minister Justin Trudeau today announced the Government of Canada's commitment to invest in two initiatives "that will give Canadian cities and towns the tools they need in order to reduce emissions and adapt to a changing climate". [Photo by Canadian Press, March 2, 2016, at Globe Conference].
"Innovation and adaptation are vital to create clean jobs, grow our economy, and protect our environment," the Prime Minister's office stated in a news release today. "The GLOBE 2016 conference demonstrates the important role that businesses, governments, and investors will play in Canada's transition to a low-carbon economy that provides good jobs and great opportunities for Canadians. To get there, Canada must make smart, strategic investments in clean growth and new infrastructure. Retooling our economy for this era of change will require new thinking and innovation."
Called "an important first step" Trudeau announced $75 million in new funding to the Federation of Canadian Municipalities (FCM) to help local governments reduce emissions and build climate resiliency at the municipal level. The Government of Canada will also invest $50 million to improve climate resilience in building and infrastructures codes across Canada.
Taken together, these measures are aimed at reducing greenhouse gas emissions, enhancing the life cycle of public and private infrastructure projects—including buildings, bridges, roads, and water and wastewater utilities—and ensuring the long-term sustainability of Canadian communities.
"Going forward, new growth will be clean growth. The future is happening now, and Canada needs to be a part of it," the release said.

---
MON FEBRUARY 22 ~ OTTAWA: The federal budget will be released on Tuesday, March 22.  "The new government will take action to ensure that economic growth is shared equally with the middle class and those working so hard to join it. In challenging economic times, the government has an important role to play. Now—more than ever—is the time to make investments to build a stronger middle class and foster sustainable, clean growth." Submissions, comments and ideas on how best to grow the economy, strengthen the middle class, and help the most vulnerable will be accepted until midnight on February 23, 2016. Full government release here: http://www.fin.gc.ca/n16/16-025-eng.asp  
SAT FEBRUARY 20 ~ BC GOVERNMENT: Province provides over $5.7M in gaming grants for public safety. BC non-profit organizations dedicated to public safety received over $5.7 million in the most recent round of community gaming grants funded by the Government of British Columbia, said Community, Sport and Cultural Development Minister Peter Fassbender today. "Public safety community gaming grants help support the important work of non-profit organizations throughout the province that provide a range of services and educational programs to protect the safety of British Columbians in their local communities," says the BC Government. Eligible organizations include: volunteer fire departments, search and rescue groups, crime stoppers associations, marine rescue societies and community justice centres.  For a full list of public safety grant recipients: http://ow.ly/YdPzd
THURS FEBRUARY 18 
~ 
BC GOVERNMENT:
Apparently only 39% of seniors are aware of premium assistance for their Medical Service Plan payments
.
BC Health Minister Terry Lake and
BC seniors advocate Isobel Mackenzie addressed media this afternoon to highlight MSP supports, at a seniors home in James Bay, in downtown Victoria. Premium assistance is a fine thing, but doesn't take into account the punitive fee structure that sees any family earning over $30,000 paying the same amount, regardless of how high their income is. A recent survey presented in the BC Legislature called for revision of the MSP system so that premiums are based on a sliding scale (percentage of income), and eliminating the need to file forms. MSP Collections goes so far as to put a lien on a person's home, if fees are not paid. This does not happen in other jurisdictions in Canada. See MSP coverage in the
Jan 22, 2016 Edition of West Shore Voice News
 (pages 1 & 3) and the  
Feb 12, 2016 edition of West Shore Voice News
 (page 1).  |
More big-picture news

WED FEBRUARY 17 ~ RESOURCE INDUSTRY:
 "It's time for a new conversation about building pipelines in this country – a conversation about how Canada can get full value for its oil production while at the same time addressing environmental concerns, including climate change."
Op-Ed  by Murray Edwards, Executive Chairman, Canadian Natural Resources Limited and Brian Ferguson, President & CEO, Cenovus Energy  in the
Feb 19th edition of West Shore Voice News
.  
---